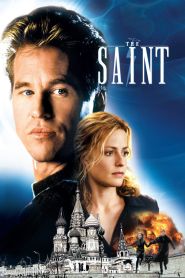 General Information
Glossary: T
Released Year: 1997
Runtime: 116 minutes
Genre: Action, Adventure, Romance, Sci-Fi, Thriller
Directors: Phillip Noyce
Casts: Emily Mortimer, Tommy Flanagan, Val Kilmer, Rade Serbedzija, Henry Goodman, Velibor Topic, Pat Laffan, Yevgeni Lazarev, Alun Armstrong, Peter Guinness, Malcolm Tierney, Michael Byrne, Elisabeth Shue, Lorelei King, Tusse Silberg, Valeriy Nikolaev, Stefan Gryff, Egor Pazenko, Irina Apeksimova, Lev Prygunov, Charlotte Cornwell, Lucija Serbedzija, Adam Smith, Verity-Jane Dearsley, Michael Marquez, Alla Kazanskaya, Ronnie Letham, Christopher Rozycki
IMDB: The Saint (1997)
Sponsored Links
Ratings
User Rating:
IMDB Rating:
6.2
Reviews
Dallas Observer

-

The Saint exists almost entirely as a vehicle for Kilmer's quick-change smarty-pants swagger, and it's inconceivable without him. He's great fun to watch--a squirish master thief with a wide streak of lewdness.

San Francisco Chronicle

-

Kilmer dons 12 disguises in all, polishes them with impeccable accents and pliable postures and gives a performance that's far and away the best aspect of the diverting The Saint.

The Globe and Mail (Toronto)

-

More entertaining than Mission: Impossible or the last Bond film, Goldeneye, it brings back the humour and sang-froid that makes the genre work.

Rolling Stone

-

The Saint leaves star Val Kilmer and director Phillip Noyce (Patriot Games) fighting to enliven an exhausted character.

Los Angeles Times

-

For the future, the Saint is such an unpleasant and predatory manipulator, it's difficult to root for romance. And when Kilmer's mightily convincing Ice King begins to melt, it's so out of character with what's gone before that its believability is touch and go.
The Saint (1997)
Ivan Tretiak, Russian Mafia boss who wants to create an oil crisis in Moscow and seize power as a result sends Simon Templar, great international criminal, to England to get a secret formula for cold fusion from U.S. scientist Emma Russell. Templar falls in love with Emma and they try to outwit Tretiak and his guerrillas, hiding from them in Moscow