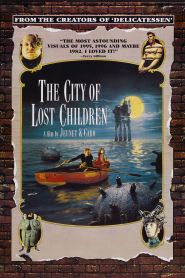 General Information
Glossary: T
Released Year: 1995
Runtime: 108 minutes
Genre: Adventure, Fantasy, Sci-Fi
Directors: Jean-Pierre Jeunet, Marc Caro
Casts: Elisabeth Etienne, Ron Perlman, Marc Amyot, Mathieu Kassovitz, Alexis Pivot, Rufus, Dominique Pinon, Lorella Cravotta, Serge Merlin, Ticky Holgado, Dominique Bettenfeld, Thierry Gibault, Frankie Pain, Philippe Beautier, Arthur Mazet, Ham-Chau Luong, Jean-Louis Trintignant, Jean-Claude Dreyfus, Marc Caro, Mapi Galán, Judith Vittet, Daniel Emilfork, Geneviève Brunet, Odile Mallet, Mireille Mossé, Cris Huerta, Joseph Lucien, Briac Barthélémy, Pierre-Quentin Faesch, François Hadji-Lazaro, Lotfi Yahya Jedidi, Enrique Villanueva, Dominique Chevalier, Éric Houzelot, Jean-Philippe Labadie, Raphaèle Bouchard, Rachel Boulenger, Michel Motu, Nane Germon, Léo Rubion, Guillaume Billod-Morel, Bezak, Hong Mai Thomas, René Pivot, Daniel Adric, Christophe Salengro, René Marquant, Michel Smolianoff, Lili Cognard, Angélique Philibert, Marie Piémontèse, Antoinette Dias, Zak Russomanno, Djamila Bouda, Lauren Geoffroy, Cyril Aubin, Bruno Journée, Jérémie Freund, Joris Geneste, Julie Bernard, Valentin Simonet, Eglantine Blanckaert, Gaëtan Bouyala, Mickael Bussinger, Jonathan Gatinois, Joshka Kaufmann, Morgan Mariac, Caroline Marsily, Geoffroy Morange, Sébastien Thaissart, Charlotte Bienfait, Camille Dufeu, Robinson Fouille, Alysia Hoffeurt, Sandy Kontargyris, Andrew Laupen, Théo Madueno, Fackry M'Saidie, Gabriel Pierre, Bérangère Pivot, Charlotte Ribaud-Chevrey, Laura Robert, Caroline Rochand, Carolane Yvan, Margot Tostivint, Buster Verbraeken
IMDB: The City of Lost Children (1995)
Sponsored Links
Ratings
User Rating:
IMDB Rating:
7.5
Reviews
Empire

-

The City Of Lost Children is as great a film as you thought "Chitty Chitty Bang Bang" was when you were five years old.

ReelViews

-

For those who enjoy the offbeat, The City of Lost Children is worth taking the time and effort to find.

TV Guide Magazine

-

You may end up wishing for a little less show and a lot more substance.

Austin Chronicle

-

With its fine performances, gorgeous sets, incredible special effects, imaginative story line, beautiful score (by frequent David Lynch collaborator Angelo Badalamenti), and knockout cinematography, The City of Lost Children is very much worth seeing.

Chicago Sun-Times

-

I am not one of you. But I have enough of you in me to pass along the word. Far out.
The City of Lost Children (1995)
A scientist in a surrealist society kidnaps children to steal their dreams, hoping that they slow his aging process.