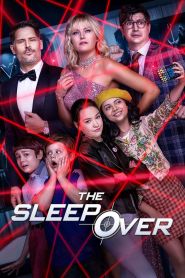 General Information
Glossary: T
Released Year: 2020
Runtime: 103 minutes
Genre: Action, Family
Directors: Trish Sie
Writers: Sarah Rothschild
Casts: Jazz Mann, Malin Åkerman, Ken Marino, Joe Manganiello, Karla Souza, Erik Griffin, Naheem Garcia, Chris Neville, Enku Gubaie, Calidore Robinson, Maxwell Simkins, Enuka Okuma, J.J. Wright, Joanna Herrington, Sadie Stanley, Cree Cicchino, Lucas Jaye, Harry Aspinwall, Matthew Grimaldi, Marissa Carpio, Harry Phan, Savanna Winter, Morgan Boss-Maltais, Alanna Logan, Will Noonan, Daniel Washington, Aedan Knowlton, Steve Rasetta, Alessandra Panares, Elena Korableva
IMDB: The Sleepover (2020)
Sponsored Links
Ratings
User Rating:
IMDB Rating:
5.5
Reviews
Polygon

-

It's just enough entertainment to provide fodder for one diverting sleepover, but it'll be forgotten as soon as the morning dawns.

The Globe and Mail (Toronto)

-

A giddy and fitfully amusing mashup of "Adventures in Babysitting," "Date Night," the Spy Kids franchise and, um, "Wet Hot American Summer," The Sleepover is the latest entry in Netflix's experiment in catch-'em-all entertainment.

The Guardian

-

Sie elicits mostly spontaneous, credible performances from the younger cast, who deliver their wisecracks and banter with aplomb and only occasionally edge into annoying child-actor pertness.

IndieWire

-

Softer and safer than a close cousin like "Adventures in Babysitting," The Sleepover zips between its adult storyline and the wacky hi-jinks of the kids, scarcely noticing it's the younger set who are far more amusing to watch.

RogerEbert.com

-

The frantic adults and kids in Trish Sie's The Sleepover are often screaming, but that doesn't mean they're getting anywhere. You'd think that a story about a mom's cool secret and kids breaking curfew would be a lot more fun, especially with a charismatic cast like this, and yet The Sleepover is mostly about killing time, specifically that of your own.
The Sleepover (2020)
Two siblings who discover their seemingly normal mom is a former thief in witness protection. Mom is forced to pull one last job, and the kids team up to rescue her over the course of an action-packed night.