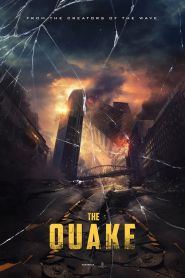 General Information
Glossary: T
Released Year: 2018
Runtime: 106 minutes
Genre: Action, Thriller
Directors: John Andreas Andersen
Writers: Harald Rosenløw-Eeg, John Kåre Raake
Casts: Ane Dahl Torp, Kristoffer Joner, Jonas Hoff Oftebro, Edith Haagenrud-Sande, Kathrine Thorborg Johansen, Fredrik Skavlan, Stig R. Amdam, Catrin Sagen, Ingvild Haugstad, Ravdeep Singh Bajwa, Tina Schei, Hang Tran
IMDB: The Quake (2018)
Sponsored Links
Ratings
User Rating:
IMDB Rating:
6.2
Reviews
The Globe and Mail (Toronto)

-

Director Andersen's pacing is dynamic, allowing white-knuckled viewers to catch their breaths before he takes it away again. This isn't a sequel, it's an after-shock – and a doozy at that.

The Playlist

-

With well-staged action, good character work, and believable progressions from the previous installment, The Quake is the sequel that fans of "The Wave" deserve.

New York Magazine (Vulture)

-

John Andreas Andersen's The Quake, a sequel to the excellent 2015 Norwegian disaster film The Wave, should be required viewing for all of today's Hollywood franchise jockeys. It shows you how to make one of these things without sacrificing your characters' souls (or your own, for that matter).

Movie Nation

-

That The Quake can still grab, alarm and thrill is a testament to skilled storytelling, empathetic performances and effects that rewrite the book on how disasters play out on the big screen.

Los Angeles Times

-

When the trouble does hit in this film, it hits hard, at which point all the investment in character pays off.
The Quake (2018)
A geologist races against time to save his estranged wife and two children when a devastating earthquake strikes Oslo, Norway.