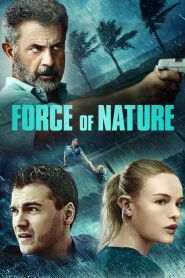 General Information
Glossary: F
Released Year: 2020
Runtime: 91 minutes
Genre: Action, Crime, Drama
Directors: Michael Polish
Writers: Cory Miller
Casts: Emile Hirsch, Kate Bosworth, Mel Gibson, Rey Hernandez, David Zayas, Tyler Jon Olson, Jasper Polish, Swen Temmel, Blas Sien Diaz, Leslee Emmett, Stephanie Cayo, William Catlett, Jesy McKinney, Anil Raman, Sebastian Vazquez
IMDB: Force of Nature (2020)
Sponsored Links
Ratings
User Rating:
IMDB Rating:
4.4
Reviews
Boston Globe

-

Force of Nature lives up, down, and sideways to all those demands; it's hardly a great film, but it keeps you watching, and only partly in disbelief.

Variety

-

None of this is particularly credible, let alone memorable, but it's all executed with sufficient energy and humor to make for an enjoyable night's entertainment.

Chicago Sun-Times

-

Force of Nature is more of a nasty little rainstorm than a Category 5 anything.

Original-Cin

-

Let's get this out of the way right up front: Force of Nature is fairly terrible albeit in some interesting ways that won't change the way you think about film but will make a Monday night couch-sit more entertaining, if only to discuss the WTF elements while washing out the popcorn bowl.

The A.V. Club

-

It certainly isn't Polish's intention to make any grand political statements with his action thriller, but expecting empathetic connection with a callous white cop is a big ask in today's climate. And it sours what's otherwise just a lackluster B movie drowned in buckets of rain.
Force of Nature (2020)
A gang of thieves plan a heist during a hurricane and encounter trouble when a disgraced cop tries to force everyone in the building to evacuate.