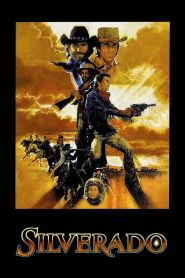 General Information
Glossary: S
Released Year: 1985
Runtime: 127 minutes
Genre: Action, Crime, Drama, Romance, Western
Directors: Lawrence Kasdan
Casts: Jake Kasdan, Rosanna Arquette, Richard Jenkins, Brian Dennehy, John Cleese, Kenny Call, Scott Glenn, Kevin Kline, Lynn Whitfield, Danny Glover, Jeff Goldblum, Amanda Wyss, Rusty Meyers, Brad Leland, Kevin Costner, Dick Durock, Ray Baker, Jeff Fahey, Linda Hunt, Marvin J. McIntyre, Gene Hartline, James Gammon, Jon Kasdan, Brion James, Meg Kasdan, Thomas Wilson Brown, Todd Allen, Bill Thurman, Ken Farmer, Joe Seneca, Sheb Wooley, Sam Gauny, Jim Haynie, Patricia Gaul, Lois Geary, Autry Ward, Zeke Davidson, Troy Ward, Roy McAdams, Earl Hindman
IMDB: Silverado (1985)
Sponsored Links
Ratings
User Rating:
IMDB Rating:
7.2
Reviews
Chicago Sun-Times

-

This movie is more sophisticated and complicated than the Westerns of my childhood, and it is certainly better looking and better acted.

The New York Times

-

Silverado is sufficiently modern to make its landscapes bigger, its people smaller and its moral polarities less powerfully distinct than those of simpler, more starkly beautiful westerns gone by.

Variety

-

Rather than relying on legendary heroes of Westerns past, writer-director Lawrence Kasdan with his brother Mark have used their special talent to create a slew of human scale characters against a dramatic backdrop borrowing from all the conventions of the genre.

Empire

-

Engrossing western which inspired a huge genre revivial.

Christian Science Monitor

-

It's best when the carefully chosen cast throws itself into developing characters and building their relationships. When pure storytelling takes over after an hour or so, the picture becomes less original and engaging.
Silverado (1985)
Four unwitting heroes cross paths on their journey to the sleepy town of Silverado. Little do they know the town where their family and friends reside has been taken over by a corrupt sheriff and a murderous posse. It's up to the sharp-shooting foursome to save the day, but first they have to break each other out of jail, and learn who their real friends are.