Wild Target (2010)
---
Victor Maynard is a middle-aged, solitary assassin, who lives to please his formidable mother, despite his own peerless reputation for lethal efficiency. His professional routine is interrupted when he finds himself drawn to one of his intended victims, Rose. He spares her life, unexpectedly acquiring in the process a young apprentice, Tony. Believing Victor to be a private detective, his two new companions tag along, while he attempts to thwart the murderous attentions of his unhappy client
Other Movies You Might Enjoy
---
Wild Target (2010)
---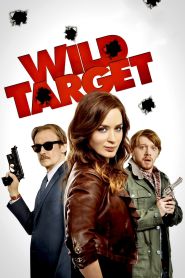 Information
---
Runtime: 98 minutes
Casts:
Geoff Bell
,
Rupert Everett
,
Emily Blunt
,
Bill Nighy
,
Rupert Grint
,
Rory Kinnear
,
Martin Freeman
,
Gregor Fisher
,
James O'Donnell
,
Eileen Atkins
,
Duncan Duff
,
Graham Seed
,
George Rainsford
,
Alexis Rodney
Storyline
---
Victor Maynard is a middle-aged, solitary assassin, who lives to please his formidable mother, despite his own peerless reputation for lethal efficiency. His professional routine is interrupted when he finds himself drawn to one of his intended victims, Rose. He spares her life, unexpectedly acquiring in the process a young apprentice, Tony. Believing Victor to be a private detective, his two new companions tag along, while he attempts to thwart the murderous attentions of his unhappy client
Reviews
---
New York Post

-

An eccentric little comic thriller filled with enough laughs that I was mostly willing to overlook the fact that it makes virtually no sense as a thriller.

Movieline

-

It's hard to tell what Wild Target is offering, besides the pleasure of its company.

Entertainment Weekly

-

The cast, though, includes a great bunch of Brit faves who have all done better work elsewhere.

Los Angeles Times

-

Nighy is usually a treat to watch navigating life's bad turns, so it's especially frustrating that the filmmaker so often leaves him at loose ends.

The New York Times

-

The considerable wit, style, and skill that Mr. Nighy and Ms. Blunt bring to the project are squandered.