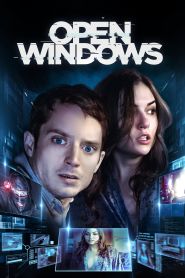 General Information
Glossary: O
Released Year: 2014
Runtime: 101 minutes
Genre: Action, Crime, Thriller
Directors: Nacho Vigalondo
Writers: Nacho Vigalondo
Casts: Elijah Wood, Iván González, Neil Maskell, Sasha Grey, Michelle Jenner, Nacho Vigalondo, Adam Quintero, Jaime Olías, Jake Klamburg, Daniel Pérez Prada, Rachel Arieff, Julián Villagrán, Carlos Areces, Brian Elder, Scott Weinberg
IMDB: Open Windows (2014)
Sponsored Links
Ratings
User Rating:
IMDB Rating:
5.2
Reviews
Austin Chronicle

-

Open Windows has plenty to say about both the death of privacy and the dominion of the always-connected digiverse we now inhabit, and editor Bernat Vilaplana does a remarkable job of keeping the film's frenetic pace rushing headlong toward an ending that you'll never see coming.

RogerEbert.com

-

Open Windows goes from crazy to Crazy to CRAZY, but maintains enough energy and cultural currency to keep the entertainment value high.

Variety

-

A fiendishly inventive thriller built around an audacious if unsustainable gimmick, Open Windows elevates Hitchcockian suspense to jittery new levels of mayhem and paranoia.

The Playlist

-

While the execution may be somewhat of a misfire, the obvious effort and thought put into making the concept work is worthy.

Slant Magazine

-

Timidity and perhaps fear, of visual confinement, of lingering emotional engagement, closes Nacho Vigalondo's most promising windows.
Open Windows (2014)
Nick is excited to discover that he's won a dinner date with his favorite actress, Jill Goddard. But when Jill refuses to honor the contest, he receives an offer he can't refuse: the ability to view Jill secretly via computer. Nick begins watching the unknowing star on her webcam, not realizing that this decision will put both himself and Jill at risk as they enter a terrifying world of cat-and-mouse where nothing-and no one-are as they seem.