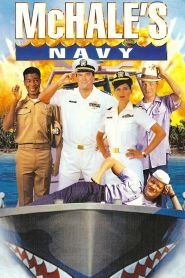 General Information
Glossary: M
Released Year: 1997
Runtime: 108 minutes
Genre: Action, Comedy, Romance
Directors: Bryan Spicer
Writers: Peter Crabbe, Andy Rose
Casts: James Hong, Tom Arnold, Debra Messing, David Alan Grier, Bruce Campbell, Tim Curry, Ernest Borgnine, French Stewart, Dean Stockwell
IMDB: McHale's Navy (1997)
Sponsored Links
Ratings
User Rating:
IMDB Rating:
4.6
Reviews
The New York Times

-

Leaky PT boat of a comedy, descended from the television series.

Variety

-

Time and adapters have not been kind to the fun-loving series.

Los Angeles Times

-

Although it comes under the increasingly crowded category of Why Did They Bother, McHale's Navy does offer an example of a movie that tries to be all things to all people. As long as they're 13 and male.

TV Guide Magazine

-

This shotgun marriage of coarse laughs and low-rent action cliches is, of course, utterly predictable: Cutting-edge comedy isn't lurking under the corpses of old TV shows.

Chicago Sun-Times

-

McHale's Navy is an astonishingly bad film. Even if you never saw the early '60s TV series on which it is loosely based, you'll hate it. [18 Apr 1997, p.39]
McHale's Navy (1997)
Retired Lieutenant Commander Quinton McHale spends his days puttering around the Caribbean in the old PT-73 selling homebrew, ice cream, and swimsuit calendars. He's brought out of retirement when his old nemesis turned the second best terrorist in the world, Major Vladikov, takes over the island of San Moreno and starts building a nuclear launch silo on it. With help from his old crew and hindrances from Captain Wallace B. Binghampton, who sank a cruise liner a while back, McHale tries to put Vladikov out of business.