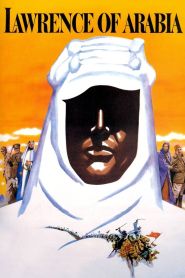 General Information
Glossary: L
Released Year: 1962
Runtime: 216 minutes
Genre: Adventure, Biography, Drama, History, War
Directors: David Lean
Casts: John Bennett, Cyril Shaps, Peter O'Toole, Omar Sharif, Alec Guinness, Robert Rietty, Anthony Quinn, Arthur Kennedy, Roy Stevens, George Plimpton, Anthony Quayle, Ernie Rice, Peter Burton, Jack Hawkins, James Hayter, José Ferrer, Jack Gwillim, Jack Hedley, Stuart Saunders, Claude Rains, Bryan Pringle, Noel Howlett, Norman Rossington, Bruce Beeby, Donald Wolfit, Zia Mohyeddin, I.S. Johar, Gamil Ratib, Michel Ray, John Dimech, Howard Marion-Crawford, Hugh Miller, John Barry, Steve Birtles, David Lean, Robert Bolt, Daniel Moynihan, Barry Warren, J.R.M. Chapman, Basil Dignam, Peter Dukelow, Mohamed El Habachi, Kenneth Fortescue, Harry Fowler, Fernando Sancho, Patrick Kavanagh, Ian MacNaughton, Clive Morton, Henry Oscar, John Robinson, John Ruddock, Rafael Hernández, Fred Bennett
IMDB: Lawrence of Arabia (1962)
Sponsored Links
Ratings
User Rating:
IMDB Rating:
8.3
Reviews
Christian Science Monitor

-

In short, they don't make 'em like this one anymore. Viewing it is like taking a time machine to a movie age that was more naive than our own in some ways, more sophisticated and ambitious in others.

Chicago Sun-Times

-

What a bold, mad act of genius it was, to make Lawrence of Arabia, or even think that it could be made.

Chicago Tribune

-

It's perhaps only because it can't be seen in its full glory on television that "Lawrence" isn't ranked more highly on some recent all-time "best film" lists. But it belongs near the very top. It's an astonishing, unrepeatable epic.

ReelViews

-

Riveting from beginning to end, featuring stellar performances, amazing cinematography, and a story without a trace of fat, the film does everything an epic is supposed to do - and more.

TV Guide Magazine

-

David Lean's splendid biography of the enigmatic T.E. Lawrence paints a complex portrait of the desert-loving Englishman who united Arab tribes in battle against the Ottoman Turks during WWI.
Lawrence of Arabia (1962)
The story of British officer T.E. Lawrence's mission to aid the Arab tribes in their revolt against the Ottoman Empire during the First World War. Lawrence becomes a flamboyant, messianic figure in the cause of Arab unity but his psychological instability threatens to undermine his achievements.