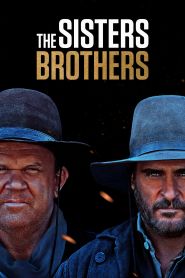 General Information
Glossary: T
Released Year: 2018
Runtime: 121 minutes
Genre: Adventure, Comedy, Crime, Drama, Western
Directors: Jacques Audiard
Casts: Jake Gyllenhaal, Joaquin Phoenix, Rutger Hauer, John C. Reilly, Aldo Maland, David Gasman, Riz Ahmed, Richard Brake, Creed Bratton, Raymond Waring, Patrice Cossoneau, Carol Kane, Aidan O'Hare, Jean-Marc Bellu, Ian Reddington, Trevor Allan Davies, Diego Llano, Allison Tolman, Jochen Hägele, Eric Colvin, Eric Colvin, Lexie Benbow-Hart, Rebecca Root, Sean Duggan, Sean Duggan, Philip Rosch, Nick Cornwall, Jóhannes Haukur Jóhannesson, Philip Rosch, Duncan Lacroix, Theo Exarchopoulos, Gerard Cooke, Hugo Dillon, Andrew Litvack, Jose M. Pinilla, Frédéric Siuen, Kelda Holmes, Lenuta Bala, Zac Abbott, Cédric Charpentier, Anna Tardue, Raynor van de Water
IMDB: The Sisters Brothers (2018)
Sponsored Links
Ratings
User Rating:
IMDB Rating:
7.1
Reviews
TheWrap

-

The Sisters Brothers gallops on screen with a lot of ambitions, and it fulfills them all. It's a sprawling Western that's also an intimate character piece; it has moments of wit but also devastating tragedy; it delves into larger themes like the impact of fathers upon sons, and how greed and industrialization lead to environmental devastation, and yet it offers the hope of redemption.

The Hollywood Reporter

-

This first English-language outing by the ever-adventurous French director Jacques Audiard (A Prophet, Rust and Bone) is a connoisseur's delight, as it's boisterously acted and detailed down to its last bit of shirt stitching.

IndieWire

-

It's the stirring chemistry between Joaquin Phoenix and John C. Reilly as committed siblings that transforms these lively, violent circumstances into a sweet and intimate journey designed to catch acolytes of the genre off-guard.

The Playlist

-

A movie about manhood, brotherhood and the unexpected bonds of fraternity, explored in all their brutality and twisted humor, The Sisters Brothers presents the cruel hostilities of the world, the innocence lost in the madness and the possibilities of a humanity still to be found scattered through the debris of American carnage.

Screen International

-

This is a Western which is rugged and raw, eschewing the genre's mythmaking for something a little more off the beaten path.
The Sisters Brothers (2018)
Gold prospector, Hermann Kermit Warm is being pursued across 1,000 miles of 1850s Oregon desert to San Francisco by the notorious assassins, Eli and Charlie Sisters. Except Eli is having a personal crisis and beginning to doubt the longevity of his chosen career. And Hermann might have a better offer.