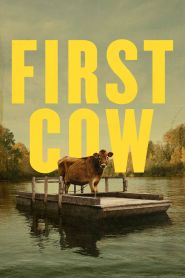 General Information
Glossary: F
Released Year: 2019
Runtime: 122 minutes
Genre: Drama, History
Directors: Kelly Reichardt
Casts: Toby Jones, Dylan Smith, Ewen Bremner, Alia Shawkat, Gary Farmer, Ted Rooney, Eric Martin Reid, Rene Auberjonois, Orion Lee, John Magaro, Kevin-Michael Moore, Scott Shepherd, Jeb Berrier, Lily Gladstone, Todd A. Robinson, Ryan Findley, Manuel Rodriguez, Patrick D. Green, Eve the Cow, Jared Kasowski, Jean-Luc Boucherot, John Keating, Don MacEllis, Phelan Davis, Sabrina Mary Morrison, Mitchell Saddleback, T. Dan Hopkins, James Jones, James Ridley
IMDB: First Cow (2019)
Sponsored Links
Ratings
User Rating:
IMDB Rating:
7.0
Reviews
The Guardian

-

It is a tremendously engaging story which does something that very few movies do: mention money. Something very palpable is at stake, the jeopardy is real and it's a question of survival.

The Telegraph

-

Starting her film with an aphorism of William Blake's – "The bird, a nest; the spider, a web; man, friendship" – she not only does justice to the human end of this equation, but looks out for a rare spectrum of the animal kingdom into the bargain.

The New York Times

-

First Cow is fundamentally a western: It takes up questions of civilization, solidarity and barbarism on the American frontier. And like many great westerns it critiques some of the genre's foundational myths with bracing, beautiful rigor, including the myth of heroic individualism.

IndieWire

-

Once again, Reichardt has crafted a wondrous little story about two friends roaming the natural splendors of the Pacific Northwest, searching for their place in the world. The appeal of this hypnotic, unpredictable movie comes from how they find that place through mutual failure, and the nature of that outcome in the context of an early, untamed America has rich implications that gradually seep into the frame.

Film Threat

-

By examining the subtleties of friendship, the film is transfixing and charming.
First Cow (2019)
A taciturn loner and skilled cook has traveled west and joined a group of fur trappers in Oregon Territory, though he only finds true connection with a Chinese immigrant also seeking his fortune; soon the two collaborate on a successful business, although its longevity is reliant upon the clandestine participation of a nearby wealthy landowner's prized milking cow.