Fall (2022)
---
For best friends Becky and Hunter, life is all about conquering fears and pushing limits. But after they climb 2,000 feet to the top of a remote, abandoned radio tower, they find themselves stranded with no way down. Now Becky and Hunter's expert climbing skills will be put to the ultimate test as they desperately fight to survive the elements, a lack of supplies, and vertigo-inducing heights
Other Movies You Might Enjoy
---
Fall (2022)
---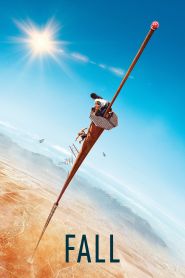 Information
---
Runtime: 107 minutes
Storyline
---
For best friends Becky and Hunter, life is all about conquering fears and pushing limits. But after they climb 2,000 feet to the top of a remote, abandoned radio tower, they find themselves stranded with no way down. Now Becky and Hunter's expert climbing skills will be put to the ultimate test as they desperately fight to survive the elements, a lack of supplies, and vertigo-inducing heights
Reviews
---
The A.V. Club

-

Even on the couch, with the ability to hit pause, it reaches heights (ha!) of quintessential B-movie greatness, causing exactly the kind of discomfort that elicits verbal rebukes.

TheWrap

-

This may be the first movie to apply the Chekhov's gun rule to vultures, a portent sure to satisfy the more horror-minded ticket buyers, not to mention anyone else eager for the kind of back-to-basics survival excitement "Fall" refreshingly serves up in this dreary age of apocalyptic popcorn emptiness.

Slashfilm

-

Fall doesn't break the mold, and there are a wealth of one-location thrillers that are much better than this. But when you're climbing that tower with Becky and Hunter, you can't help but follow along, nervous, but still exhilarated by the journey. Watching "Fall" on a big screen and experiencing the nerve-shredding vertigo that comes from the proceedings is the kind of pulpy fun that memorable late-summer movies are made of.

Original-Cin

-

To its credit, Fall doesn't pretend to be a metaphor for more meaningful ruminations on life and death. It's a female-led thriller designed to make you gasp and wince, plain and simple. You probably should see it just for the acrobatic camerawork and insane vistas. But you will hate yourself.

Slant Magazine

-

Scott Mann's film succeeds by simply committing to and steadily ratcheting up the ludicrous awesomeness of its premise.