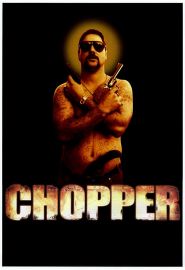 General Information
Glossary: C
Released Year: 2000
Runtime: 94 minutes
Genre: Biography, Comedy, Crime, Drama
Directors: Andrew Dominik
Casts: Eric Bana, Kate Beahan, Bill Young, Daniel Wyllie, Simon Lyndon, David Field
IMDB: Chopper (2000)
Sponsored Links
Ratings
User Rating:
IMDB Rating:
7.2
Reviews
Village Voice

-

Bana, who appears in nearly every shot, talking all the while, gives a remarkably mercurial performance.

Miami Herald

-

An impressionistic portrait of the seductive nature of evil.

Philadelphia Inquirer

-

Its dabs of dark comedy and stabs of gore, still rings with a sense of the real. It's electric-charged.

L.A. Weekly

-

Grotesquely violent, horribly funny.

New Times (L.A.)

-

Dominik's stylistic choices are savvy, but what really makes the movie work is Bana's extraordinary performance as Chopper.
Chopper (2000)
The true and intense story of Mark 'Chopper' Read, a legendary criminal who wrote his autobiography while serving a jail sentence in prison.