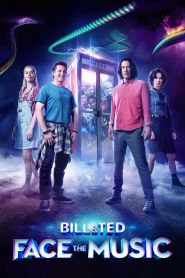 General Information
Glossary: B
Released Year: 2020
Runtime: 92 minutes
Genre: Adventure, Comedy, Sci-Fi
Directors: Dean Parisot
Casts: William Sadler, Kristen Schaal, George Carlin, Ed Solomon, Keanu Reeves, "Weird Al" Yankovic, Jayma Mays, Holland Taylor, Dave Grohl, Billy Slaughter, Hal Landon Jr., Ned Yousef, Sharon Gee, Cynthia LeBlanc, Elton LeBlanc, Chris Matheson, Jillian Bell, Sharon K. London, Alex Winter, Al Vicente, Scott Mescudi, Beck Bennett, Amy Stock-Poynton, Nicolas Bosc, Brigette Lundy-Paine, Mickey Gooch Jr., Samara Weaving, Jared Bankens, Erinn Hayes, Piotr Michael, Candice Richardson, William E. Harris, Patti Brindley, Anthony Carrigan, DazMann Still, Jeremiah Craft, Patty Anne Miller, Shoshana Bean, Kelly Carlin, Reece Loustalot, Kimberly Stockton, Christian Scott, Bridget Andrews, Artis Burney, Gretchen Byers, Georgia Cohran, David Calloway, John Devilman, Bailie Duzaut, Andrea Garcia, Gabriel Derrick, Maddison Nicolosi, Kallie Glidewell, Xavier Leblanc, Joseph Martin, Kharismisa Morris, Eliana Ruiz, Tommie Wong, Lindy Ariff, Diana Barnes, Alberto Corrales, Scott Gelpi, Andrian Harabaru, Dylan Langlois, Nick Garrison, Jeff Pagano, Dijon Lodree, Jeremy Thomas, Alexis Long, Suzy Cole, Alex Halpern, Kierra Luv, Bill Prady, Daniel Dorr, Doug Gagnon, Gregory Hobson, Peter Wick
IMDB: Bill & Ted Face the Music (2020)
Sponsored Links
Ratings
User Rating:
IMDB Rating:
6.2
Reviews
Variety

-

The film is weightless and super-goofy — a blissed-out air balloon of nostalgia. It zips right along, it makes you smile and chortle, it's a surprisingly sweet-spirited love story.

IndieWire

-

Face the Music is a giant party of a movie, made all the more gratifying by the way it sits at odds with the divisive moment that greets its release. Things may be dire (in this movie and IRL) but Bill and Ted's unbridled enthusiasm as their stumbles through daunting circumstances turn gleeful ignorance into a form of escapism.

Entertainment Weekly

-

Mostly, the joy comes from watching Reeves and Winter on screen, two holy fools just doing their best to bring light and love and non-heinous riffs — and remind the bleary-eyed citizens of 2020, perhaps, of a simpler, sweeter world gone by.

IGN

-

Bill & Ted Face the Music is a pleasant escape for the quarantine-stricken, a sweet and entertaining romp that defies expectations by largely recapturing what worked about the series so many years later.

ScreenCrush

-

Bill & Ted Face the Music breezes by for 95 minutes, cruising along with the same chill energy that Bill and Ted bring to every room they enter. It's admittedly very slight, and the ending is way too abrupt. Still, Matheson and Solomon managed to make a movie about how life's accumulating failures can turn people cynical without making Bill and Ted into cynics themselves.
Bill & Ted Face the Music (2020)
Yet to fulfill their rock and roll destiny, the now middle-aged best friends Bill and Ted set out on a new adventure when a visitor from the future warns them that only their song can save life as we know it. Along the way, they are helped by their daughters, a new batch of historical figures and a few music legends—to seek the song that will set their world right and bring harmony to the universe.