A Little Bit of Heaven (2011)
---
It's a comedy about a guarded woman who finds out she's dying of cancer, but when she meets her match, the threat of falling in love is scarier than death
Other Movies You Might Enjoy
---
A Little Bit of Heaven (2011)
---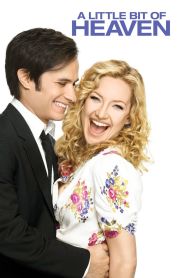 Information
---
Runtime: 106 minutes
Casts:
Lucy Punch
,
Kathy Bates
,
Whoopi Goldberg
,
Treat Williams
,
Peter Dinklage
,
Johann Urb
,
Romany Malco
,
Alan Dale
,
Kate Hudson
,
Gael García Bernal
,
Rosemarie DeWitt
,
Steven Weber
Storyline
---
It's a comedy about a guarded woman who finds out she's dying of cancer, but when she meets her match, the threat of falling in love is scarier than death
Reviews
---
Total Film

-

While the marriage of fluffy comedy and terminal illness was always going to be an uncomfortable one, this is an understated, genuinely poignant weepie bolstered by a top-drawer cast.

ReelViews

-

What's missing is honesty. It has been supplanted by artifice.

The A.V. Club

-

Bravely or stupidly, both A Little Bit Of Heaven and its heroine charge on as if the introduction of terminal cancer didn't change things that much.

Slant Magazine

-

Unsurprisingly for a film detailing terminal disease, this is a largely solemn affair, often verging on morbidity in its elongated deathwatch.

The Guardian

-

This film is one long biopsy of pure horror: the tumours of sentimentality and bad acting metastasise everywhere, and Bernal, in particular, is horrendously bad.