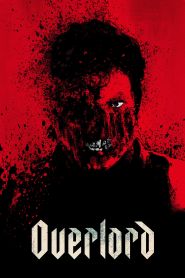 General Information
Glossary: O
Released Year: 2018
Runtime: 110 minutes
Genre: Action, Adventure, Horror, Mystery, Sci-Fi, Thriller, War
Directors: Julius Avery
Casts: Erich Redman, Wyatt Russell, Bokeem Woodbine, Dominic Applewhite, John Magaro, Jacob Anderson, Meg Foster, Andy Wareham, Iain De Caestecker, Patrick Brammall, Pilou Asbæk, Michael Epp, Jovan Adepo, Mathilde Ollivier, Gianny Taufer, Joseph Quinn, Marc Rissmann
IMDB: Overlord (2018)
Sponsored Links
Ratings
User Rating:
IMDB Rating:
7.1
Reviews
IGN

-

Overlord may not be the Call of Duty: Zombies movie you were expecting, but it is a damn entertaining film about the horror of war, and the thrills of a zombie invasion.

IndieWire

-

A subliminal commentary on the science of human behavior through a supernatural lens, "Overlord" manages to satisfy expectations of pure escapism even as it digs deeper, and it's a welcome alternative to so many movies that don't even try.

Consequence of Sound

-

There's little camp or gimmickry to be found, which is refreshing for a sub-genre whose films so often resort to bad jokes and kitsch violence.

The Hollywood Reporter

-

Pairing some of the spirit of schlocky Nazisploitation fare with a top-flight young cast and better-than-solid filmmaking, the movie is more mainstream that the midnight fare it sounds like on paper, if only by a bit. Horror fans should cheer.

Screen International

-

What it lacks in novelty, subtlety or character, it partially makes up in sheer abandon. This is a big, loud, violent, gleefully gory sledgehammer of a film with, crucially, a careful tongue in cheek.
Overlord (2018)
On the eve of D-Day during World War II, American paratroopers are caught behind enemy lines after their plane crashes on a mission to destroy a German Radio Tower in a small town outside of Normandy. After reaching their target, the paratroopers come to realize that besides fighting off Nazi soldiers, they also must fight against horrifying, bloody, and violent creatures that are a result of a secret Nazi experiment.