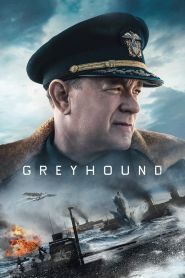 General Information
Glossary: G
Released Year: 2020
Runtime: 91 minutes
Genre: Action, Drama, War
Directors: Aaron Schneider
Casts: Tom Hanks, Thomas Kretschmann, Stephen Graham, Casey Bond, Ian James Corlett, Grayson Russell, Maximilian Osinski, Elisabeth Shue, Dominic Keating, Dave Davis, Manuel Garcia-Rulfo, Craig Tate, Lee Norris, Chet Hanks, Josh Wiggins, Joseph Poliquin, Jon Donahue, Adam Aalderks, Rob Morgan, David Maldonado, Parker Wierling, Matthew Zuk, Devin Druid, Karl Glusman, Will Pullen, Michael Benz, Caleb J. Thaggard, Alex Kramer, Cade Burk, Jimi Stanton, Tom Brittney, Matt Helm, Travis Quentin, Jeff Burkes, Ian Pala, Travis Przybylski, Jesse Gallegos, Keon Motakhaveri, Jake Ventimiglia, Michael Carollo, John Frederick, Jeff Adler, Brandon Holubar, Joel Newsom, Jeremy Madden
IMDB: Greyhound (2020)
Sponsored Links
Ratings
User Rating:
IMDB Rating:
7.0
Reviews
Chicago Tribune

-

It's consistent, and there's enough juice in Hanks' personal, human-scaled interest in ordinary heroism under fire to make the movie underneath the labels work on its own terms.

USA Today

-

The movie is successful at finding little details that make it feel lived-in and authentic.

The Hollywood Reporter

-

Greyhound is a taut action thriller that exerts a sustained grip.

Variety

-

When the mortars aren't firing, the movie ebbs, flows, occasionally sags, and sometimes rivets.

Uproxx

-

Greyhound is an exciting, non-stop battle scene from start to finish. Which might be enough to make us watch it, but is not enough to make us love it.
Greyhound (2020)
A first-time captain leads a convoy of allied ships carrying thousands of soldiers across the treacherous waters of the "Black Pit" to the front lines of WW2. With no air cover protection for 5 days, the captain and his convoy must battle the surrounding enemy Nazi U-boats in order to give the allies a chance to win the war.