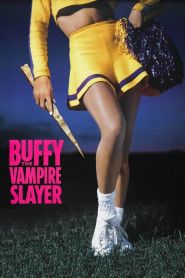 General Information
Glossary: B
Released Year: 1992
Runtime: 86 minutes
Genre: Action, Crime, Fantasy, Horror
Directors: Fran Rubel Kuzui
Casts: Donald Sutherland, Paul Reubens, Alexis Arquette, Hilary Swank, Rutger Hauer, Stephen Root, Ben Affleck, Thomas Jane, Luke Perry, Candy Clark, Kristy Swanson, David Arquette, Ricki Lake, Natasha Gregson Wagner, Sasha Jenson, Michele Abrams
IMDB: Buffy the Vampire Slayer (1992)
Sponsored Links
Ratings
User Rating:
IMDB Rating:
5.6
Reviews
Christian Science Monitor

-

Moving from the Dark Ages of old Europe to the Lite Ages of new California, this brash comedy pits a Valley Girl against a vampire. Kristy Swanson heads the likable cast, with Donald Sutherland and Paul Reubens in standout supporting performances. [31 Jul 1992].

The New York Times

-

Buffy the Vampire Slayer, a slight, good-humored film that's a lot more painless than might have been expected. Ms. Swanson's funny, deadpan delivery holds the story together reasonably well, as does the state-of-the-art Val-speak that constitutes most of Buffy's dialogue.

Washington Post

-

Buffy is amusing for a time but its destiny is to die in a disappointing, long-winded conclusion. The second half feels stretched out and muddled, as if screenwriter Joss Whedon drove a stake through his script. However, in his depiction of the vapid SoCal world, Whedon knows the territory.

Washington Post

-

The movie is a mess from start to finish. But then again, this jerky, haphazard approach is part of the movie's goofy charm.

Los Angeles Times

-

Actress Kristy Swanson provides the ideal combination of energy and comic disdain that characterize a most unlikely savior. While it would be a mistake to oversell Buffy the Vampire Slayer, the sad and/or happy truth is that you could do worse on a warm summer night. A lot worse. [31 Jul 1992, p.1]
Buffy the Vampire Slayer (1992)
Blonde, bouncy Buffy is your typical high school cheerleader: her goal is to "marry Christian Slater and die," and nothing gets in her way when it's time to shop! But all that changes when a strange man informs her she's been chosen by fate to kill vampires. With the help of a romantic rebel, Buffy is soon spending school nights protecting L.A. from Lothos the Vampire King, his sidekick, Lefty, and their determined gang of bloodsuckers. It's everything you'd expect from a teen queen in the Valley.