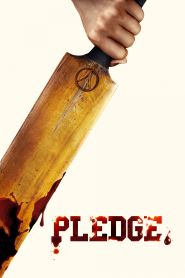 General Information
Glossary: P
Released Year: 2019
Runtime: 77 minutes
Genre: Horror, Thriller
Directors: Daniel Robbins
Writers: Zack Weiner
Casts: Phillip Andre Botello, Zack Weiner, Zachery Byrd, Aaron Dalla Villa, Erica Boozer, Joe Gallagher, Cameron Cowperthwaite, Jesse Pimentel, Jean-Louis Droulers, Melanie Rothman, Emily Creighton
IMDB: Pledge (2019)
Sponsored Links
Ratings
User Rating:
IMDB Rating:
5.4
Reviews
Film Threat

-

The surprise is the remarkable script from screenwriter (Zack Weiner) and the sharp-eyed direction from Daniel Robbins who work to take an idea we have seen a million times before and turn out something new and fiercely entertaining.

Variety

-

This third feature for director Daniel Robbins is no delicate flower of cinematic art, but a lean and mean shocker that tells its tale of collegiate hazing run amuck with brute efficiency.

Movie Nation

-

Pledge is a bloody, nervy and lean thriller about "hazing" taken to its logical extreme. If you're OK with torturing somebody so that the "shared experience" will "bond" you to your "brothers," maybe there's a little sociopath in you, Pledge.

The Globe and Mail (Toronto)

-

It's not that every film has to achieve some grand epiphany, but Touch Me Not is not nearly as satisfying as the primal act it's obsessed with.

The New York Times

-

If you like your torture movies tight, twisty and decently executed, then Pledge is for you.
Pledge (2019)
Three friends pledge a fraternity that's deadly serious about its secret rituals, turning their rush into a race for survival.