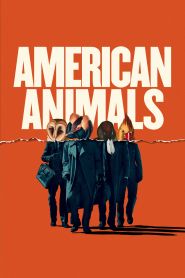 General Information
Glossary: A
Released Year: 2018
Runtime: 117 minutes
Genre: Crime, Drama
Directors: Bart Layton
Casts: Evan Peters, Gary Basaraba, Lara Grice, Udo Kier, Wayne Duvall, Ann Dowd, Stacy Rabon, Jack Landry, Jane McNeill, Barry Keoghan, Whitney Goin, Gretchen Koerner, Kelly Borgnis, Marlo Scheitler, Kevin L. Johnson, Blake Jenner, Bobby Akers, Bonnie Cole, William Cowboy Reed, Karen Wheeling Reynolds, Elijah Everett, Jared Abrahamson, Al Mitchell, Drew Starkey, Josh Royston, Fedor Steer, Abigail Dolan, Dorothy Reynolds, Pamela Mitchell, Tiffany Alice, AJ Taylor, Steven 'Trainset' Curtis, Grayson Nickel, Daniel Freeze, Lauran Foster, Jesse Truesdell, Alec Heroux, Morgan Prewitt, Brian Cole, Jason Caceres, Stephen Royal Phillips, Ben McIntire, Josh Jordan, Cody Taylor, Debby Handolescu, Liam Marcy, James R. Wiley, John Demers, Hannah Hoyt, Sophia Alongi
IMDB: American Animals (2018)
Sponsored Links
Ratings
User Rating:
IMDB Rating:
7.1
Reviews
Variety

-

This is unabashedly virtuoso, show-off filmmaking, as cocky as the misguided young men at the film's center, who, at least for a period, saw their lives as a Hollywood romp in itself.

The Hollywood Reporter

-

Both as a writer and director, Layton delivers the dramatic goods here with the skill of a pro at the top of his game while adding the rueful perspective of time's reassessment of youthful indiscretions; this has to rate among the most accomplished and fully realized big-screen debuts of recent times.

Screen International

-

American Animals requires many cuts and perspectives which are second-nature to an accomplished documentarian, yet the drama here also seems effortless and seamlessly integrated.

Movie Nation

-

American Animals is a tense, taut sober and occasionally silly thriller that reminds us that the Caribbean Island at the end of the Hollywood heist is always a mirage.

Entertainment Weekly

-

A movie seemingly custom-made for the era of alternative facts, American Animals feels like a new kind of true-crime thriller: one that shamelessly rewrites its truths in real time as it goes.
American Animals (2018)
Lexington, Kentucky, 2004. Four young men attempt to execute one of the most audacious art heists in the history of the United States.