The Young Victoria (2009)
---
From Academy Award® winners Graham King and Martin Scorsese, along with the makers of Gosford Park and The Departed, comes the story of Queen Victoria's early rise to power. From an object of a royal power-struggle to her romantic courtship and legendary marriage to Prince Albert, Emily Blunt (The Devil Wears Prada) gives a stunning performance as the young Victoria. Packed with drama, romance, breath-taking cinematography, lavish costumes and featuring an outstanding British cast including Jim Broadbent, Harriet Walter, Mark Strong, Paul Bettany, Miranda Richardson, and Rupert Friend, The Young Victoria has captivated British audiences, and is the film that Company magazine called "an epic British film, which will sweep you up in her remarkable story."
Other Movies You Might Enjoy
---
The Young Victoria (2009)
---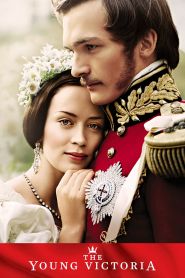 Information
---
Runtime: 105 minutes
Casts:
Jim Broadbent
,
Michael Maloney
,
Paul Bettany
,
Thomas Kretschmann
,
Mark Strong
,
Emily Blunt
,
Julian Glover
,
Genevieve O'Reilly
,
Jesper Christensen
,
Tom Fisher
,
Rachael Stirling
,
Miranda Richardson
,
Malcolm Sinclair
,
Harriet Walter
,
Jeanette Hain
,
Josef Altin
,
Rupert Friend
,
Jo Hartley
,
Morven Christie
,
Tom Brooke
,
Shaun Dingwall
,
Michiel Huisman
,
David Horovitch
,
David Robb
,
Michaela Brooks
,
Grace Smith
,
Bernard Lloyd
Storyline
---
From Academy Award® winners Graham King and Martin Scorsese, along with the makers of Gosford Park and The Departed, comes the story of Queen Victoria's early rise to power. From an object of a royal power-struggle to her romantic courtship and legendary marriage to Prince Albert, Emily Blunt (The Devil Wears Prada) gives a stunning performance as the young Victoria. Packed with drama, romance, breath-taking cinematography, lavish costumes and featuring an outstanding British cast including Jim Broadbent, Harriet Walter, Mark Strong, Paul Bettany, Miranda Richardson, and Rupert Friend, The Young Victoria has captivated British audiences, and is the film that Company magazine called "an epic British film, which will sweep you up in her remarkable story."
Reviews
---
Entertainment Weekly

-

The Young Victoria has a subtler flow than you might expect, and at times it's calmer than you may like. Director Jean-Marc Vallée's images have a creamy stateliness, but this is no gilded? princess fantasy.

Chicago Sun-Times

-

Emily Blunt makes Victoria as irresistible a young woman as Dame Judi Dench made her an older one in "Mrs. Brown" (1997).

Variety

-

Well-groomed, upscale, three-hankie entertainment for the "Masterpiece Theater" crowd.

The Hollywood Reporter

-

Emily Blunt, one of the best and most glamorous actresses to come out of England in recent years, makes an unusual but highly successful choice for the young Victoria.

ReelViews

-

The Young Victoria feels like a wasted opportunity and is among the least impressive in a long line of motion pictures about British royalty.