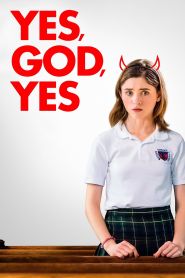 General Information
Glossary: Y
Released Year: 2020
Runtime: 78 minutes
Genre: Comedy
Directors: Karen Maine
Writers: Karen Maine
Casts: Susan Blackwell, Alisha Boe, Timothy Simons, Donna Lynne Champlin, Parker Wierling, Natalia Dyer, Christian Adam, Wolfgang Novogratz, Myles Evans, Gavrielle Anne Fontanilla, Matt Lewis, Francesca Reale, Allison Shrum, Tre'len Johnston, John Henry Ward, Teesha Renee, Paige Hullett, Gabriella Garcia, Zachary Forsythe, Riley Hough
IMDB: Yes, God, Yes (2020)
Sponsored Links
Ratings
User Rating:
IMDB Rating:
6.0
Reviews
The Film Stage

-

Similar to Obvious Child, the film avoids over the top tropes and shock value with refreshing sincerity. This is the kind of sex-positive coming of age comedy that smart, curious teens truly deserve.

Chicago Tribune

-

In several scenes, the camera stays close to Dyer's dazzling array of expressions at the computer keyboard, while Alice processes the latest rabbit hole or interior dilemma. Maine knows a pitch-perfect performance when she sees one.

Arizona Republic

-

The beauty in Maines' script, and in the performances, is how perfectly modulated everything is. Maines clearly gets some digs in at the Catholic Church, and Catholic education particularly. It's really funny.

IndieWire

-

While Maine's witty script is filled with more than enough sequences primed to get laughs out of any audience (with Dyer turning in a charming performance that never goes too broad), the real winners will likely be fellow Catholic school survivors, who will recognize many of the great truths in Yes, God, Yes.

Chicago Sun-Times

-

For all its sharp barbs at Catholic school hypocrisy and its frank depictions of masturbation and teenage hook-ups, Yes, God, Yes somehow retains a breezy and upbeat and even sweet disposition, thanks to the light touch of writer-director Karen Maine and an absolutely winning performance by "Stranger Things" star Natalia Dyer.
Yes, God, Yes (2020)
Alice, a young innocent Catholic girl, is tempted into masturbating after an AOL chat suddenly turns sexual, however is conflicted as the act would be considered a sin.