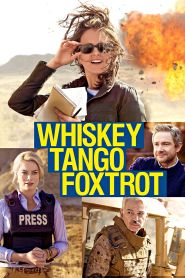 General Information
Glossary: W
Released Year: 2016
Runtime: 112 minutes
Genre: Biography, Comedy, Drama, War
Directors: Glenn Ficarra, John Requa
Writers: Robert Carlock
Casts: Billy Bob Thornton, Sterling K. Brown, Dylan Kenin, Alfred Molina, Josh Charles, Tina Fey, Martin Freeman, Nicholas Braun, Christopher Abbott, Scott Takeda, Sheila Vand, Monique Candelaria, Margot Robbie, Steve Peacocke, Stafford Douglas, Evan Jonigkeit, Soledad O'Brien, Ava Del Cielo, Lauren Myers
IMDB: Whiskey Tango Foxtrot (2016)
Sponsored Links
Ratings
User Rating:
IMDB Rating:
6.6
Reviews
TheWrap

-

The acting is universally excellent, particularly Fey, who's shrewdly fulfilling our expectations while playing off them.

Movie Nation

-

Tina Fey gives her finest, funniest big screen performance by essentially doing in Whiskey Tango Foxtrot what she did so well on TV's "30 Rock."

Entertainment Weekly

-

What work better in the movie are mostly smaller moments: the jokes that land, the rapport between the reporters, and all the weirdly ordinary ways people manage to find a new normal, even in the most WTF circumstances.

The New Yorker

-

The filmmakers keep to the surface of the bluntly rowdy story while conveying apolitical layers of regret and exasperation, in wanly comic and affectingly melodramatic action alike.

Arizona Republic

-

Ficarra and Requa never quite strike a successful balance between comedy and drama, making the whole thing feel a bit off.
Whiskey Tango Foxtrot (2016)
In 2002, cable news producer Kim Barker decides to shake up her routine by taking a daring new assignment in Kabul, Afghanistan. Dislodged from her comfortable American lifestyle, Barker finds herself in the middle of an out-of-control war zone. Luckily, she meets Tanya Vanderpoel, a fellow journalist who takes the shell-shocked reporter under her wing. Amid the militants, warlords and nighttime partying, Barker discovers the key to becoming a successful correspondent.