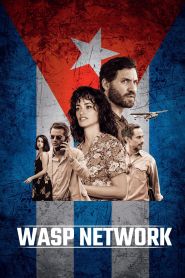 General Information
Glossary: W
Released Year: 2020
Runtime: 128 minutes
Genre: Drama, History, Thriller
Directors: Olivier Assayas
Casts: Penélope Cruz, Edgar Ramírez, Carlos Leal, Bill Clinton, Gael García Bernal, Wagner Moura, Leonardo Sbaraglia, Steve Howard, Tony Plana, Ana de Armas, Michael Strelow, Fidel Castro, Nolan Guerra Fernández, Osdeymi Pastrana Miranda, Julian Flynn, Anel Perdomo, Julio Gabay, Amada Morado, Leandro Cáceres, Ernesto Ruiz Faxas, Harlys Becerra, Gabriel Buenaventura, Carolina Peraza Matamoros, Juan Carlos Roque Moreno, Edwin Fernández, Feliberto Beatón, Javier Guillarte Fernández, Yura López, Raúl Bravo, Elbert Álvarez, Philip Stanton, Omar Ali, Juan Ángel Samper, Chris Gillette, Stephen William Tenner, René Flinn, Adria Perez, Saúl Rojas, Noslen Sánchez, Denys Ramos Antúnez, Alberto González Corona, Dánae Hernández Reyes, Yasmani Guerrero, Yaité Ruiz, Luis A. Batista, Miguel Ángel García, Daniel Romero, Luis Miguel B., Abel López Cedre, Teherán Aguilar, Armando Palma, Egor Viga, Thomas Michael Dubyna, Ruairi Rhodes, Brendan McNamee, Rob Harvie, Brannon Cross, Adri Torrijos, Jhoey Carol, Ilianki Vera Rivero, Jorge Reinaldo Ramírez Fernández, Armando Suávez Cobián, Lorenzo Rodríguez César, Antulio Marín, Colin Laverty, Gregory Binowski, Yailene Sierra, Patricia González Ciuffardi, Juan Jacomino, Alexander Meneghini, Michael Weissenstein, Patrick Perry Oppman, Will Grant, Johanna Sol, Giuseppe Scarfari, Luisa Marcolina Ausenda, Gabriele Filippone, Yanelis Tejera, Casandra Lungu, María del Carmen Muina, Pilar Varo, Jade Kayla Lage Maynier, Leia Sarmiento, Alma Shamira Parilla, Roberto Robaina
IMDB: Wasp Network (2020)
Sponsored Links
Ratings
User Rating:
IMDB Rating:
5.8
Reviews
Variety

-

It leaves viewers gratified by the filmmaking bravura and the sheer pleasure of watching this superb cast in top form, but also feeling shortchanged.

The Hollywood Reporter

-

The heart of this complex material for too long remains elusive to Assayas, and he locates it too late to give the choppy drama cohesion. That's not to say Wasp Network is dull or uninvolving.

Screen Daily

-

The latest film from the prolific Olivier Assayas' makes for a genial, lolloping ride, but it's also one that will frustrate those with little patience for the script's casual attitude to coherence.

The Guardian

-

The film is glossy, illuminating and frequently exciting. What it lacks is an emotional charge and a fine-grained texture. We need to invest in these people in order to understand their decisions – and care about the consequences of these.

CineVue

-

It might be that there's a meatier version of the film – a Carlos-style miniseries perhaps – but as it stands, shifting between a lighthearted caper and more consequential political tragedy, Wasp Network is an entertaining fumble.
Wasp Network (2020)
Havana, Cuba, 1990. René González, an airplane pilot, unexpectedly flees the country, leaving behind his wife Olga and his daughter Irma, and begins a new life in Miami, where he becomes a member of an anti-Castro organization.