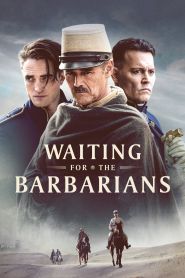 General Information
Glossary: W
Released Year: 2019
Runtime: 114 minutes
Genre: Drama
Directors: Ciro Guerra
Casts: Robert Pattinson, Johnny Depp, David Dencik, Bill Milner, Mark Rylance, Harry Melling, Sam Reid, Joseph Long, Hami Belal, Clem So, Greta Scacchi, Gana Bayarsaikhan, Wil Coban, David Moorst, Gursed Dalkhsuren, Tserendagva Purevdorj, Isabella Nefar, Dulguun-Erdene Garamkhand, Adam Bensallah, Nayef Rashed, Haqi Ali, Younes El Mejjad, Simon Luca Oldani, Faical Elkihel, Laura Cosac
IMDB: Waiting for the Barbarians (2019)
Sponsored Links
Ratings
User Rating:
IMDB Rating:
5.8
Reviews
The Playlist

-

The metaphors are a bit too numerous and on the nose at times, but Rylance's unbelievable performance overshadows the minor downfalls.

The Film Stage

-

Despite the on-the-nose delivery of its messaging being intentional, Coetzee's script will surely alienate some viewers. The slow pacing won't do it any favors either, considering it promises weightier drama than that heightened, moralizing tone could ever provide.

Slant Magazine

-

Ciro Guerra never quite finds an imagistic equivalent to the novel's apocalyptic mood and subtly hallucinogenic atmosphere.

Movie Nation

-

Depp could be dismissed as just a name and a costume who got the film financed, but his Franco-Teutonic take on Joll never quite crosses into caricature. It's good to see him putting in the effort. Pattinson? His tiny part basically is just a name and a costume who got the film financed.

The Guardian

-

It's easy to read the film as a not particularly subtle metaphor for fascism or "the war on terror", and its black hats aren't so much characters as automatons.
Waiting for the Barbarians (2019)
At an isolated frontier outpost, a colonial magistrate suffers a crisis of conscience when an army colonel arrives looking to interrogate the locals about an impending uprising, using cruel tactics that horrify the magistrate.