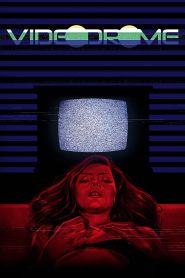 General Information
Glossary: V
Released Year: 1983
Runtime: 88 minutes
Genre: Horror, Mystery, Sci-Fi
Directors: David Cronenberg
Writers: David Cronenberg
Casts: James Woods, Jayne Eastwood, David Cronenberg, Jack Creley, Leslie Carlson, Sam Malkin, Debbie Harry, Julie Khaner, Kay Hawtrey, David Bolt, Peter Dvorsky, Henry Gomez, Sonja Smits, Lynne Gorman, Reiner Schwarz, Lally Cadeau, Harvey Chao, David Tsubouchi, Bob Church, Franciszka Hedland
IMDB: Videodrome (1983)
Sponsored Links
Ratings
User Rating:
IMDB Rating:
7.2
Reviews
TV Guide Magazine

-

A fascinating rumination on humanity, technology, entertainment, sex, and politics that is virtually incomprehensible on first viewing and needs to be seen several times before one can even begin to unlock its mysteries. (Review of Original Release)

The A.V. Club

-

Its dense mysteries remain more tantalizing than distancing: No other director integrates the creepy with the cerebral quite like Cronenberg. (Review of DVD 9/13/04)

Variety

-

Film is dotted with video jargon and ideology which proves more fascinating than distancing. And Cronenberg amplifies the freaky situation with a series of stunning visual effects. (Review of Original Release)

The New York Times

-

Though Videodrome finally grows grotesque and a little confused, it begins very well and sustains its cleverness for a long while. (Review of Original Release)

Chicago Reader

-

Never coherent and frequently pretentious, the film remains an audacious attempt to place obsessive personal images before a popular audience--a kind of Kenneth Anger version of "Star Wars." (Review of Original Release)
Videodrome (1983)
As the president of a trashy TV channel, Max Renn is desperate for new programming to attract viewers. When he happens upon "Videodrome," a TV show dedicated to gratuitous torture and punishment, Max sees a potential hit and broadcasts the show on his channel. However, after his girlfriend auditions for the show and never returns, Max investigates the truth behind Videodrome and discovers that the graphic violence may not be as fake as he thought.