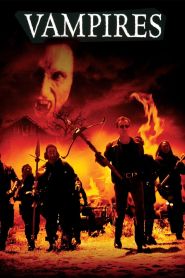 General Information
Glossary: V
Released Year: 1998
Runtime: 108 minutes
Genre: Action, Drama, Fantasy, Horror, Thriller, Western
Directors: John Carpenter
Casts: Thomas Rosales, Jr., Troy Robinson, James Woods, Mark Boone Junior, Tim Guinee, Henry Kingi, Cary-Hiroyuki Tagawa, Sheryl Lee, Thomas Ian Griffith, Mark Sivertsen, Daniel Baldwin, Maximilian Schell, Gregory Sierra, John Furlong, David Rowden, Clarke Coleman, Dennis E. Garber, Anita Hart
IMDB: Vampires (1998)
Sponsored Links
Ratings
User Rating:
IMDB Rating:
6.2
Reviews
The Globe and Mail (Toronto)

-

Crude, rude, nasty fun.

ReelViews

-

The essential problem with the movie isn't that it's loud, violent, and gory, but that, before Carpenter ratchets up the tension in the final 35 minutes, it's not especially interesting.

San Francisco Chronicle

-

The lead actors on both sides of the vampire divide are all strong personalities.

Chicago Sun-Times

-

The movie has a certain mordant humor, and some macho dialogue that's funny. Woods manfully keeps a straight face through goofy situations where many another actor would have signaled us with a wink. But the movie is not scary, and the plot is just one gory showdown after another.

TV Guide Magazine

-

James Woods adds another hateful, embittered creep to his gallery of losers, neurotics and junkyard dogs with vampire slayer Jack Crow.
Vampires (1998)
The church enlists a team of vampire-hunters to hunt down and destroy a group of vampires searching for an ancient relic that will allow them to exist in sunlight.