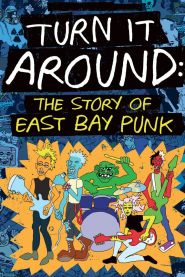 General Information
Glossary: T
Released Year: 2017
Runtime: 157 minutes
Genre: Documentary, Music
Directors: Corbett Redford
Writers: Anthony Marchitiello
Casts: Iggy Pop, Billie Joe Armstrong, Kathleen Hanna, Jello Biafra, Ian MacKaye, Silas Howard, Miranda July, Fat Mike, Gary Floyd
IMDB: Turn It Around: The Story of East Bay Punk (2017)
Sponsored Links
Ratings
User Rating:
IMDB Rating:
7.8
Reviews
Variety

-

Corbett Redford's film channels and sustains the energy of restless youth while communicating the distinctive qualities of a community that carried collectivist 1960s ideals into a new generation, even as it rejected any vestige of their hippie parents' music.

Movie Nation

-

Director Corbett Redford — a longtime member of that scene, so don't take his name at face value — tracked down generations of Bay Area punks and tells as complete a story of the music, ethos, lifestyle and politics of this movement as anyone could want.

RogerEbert.com

-

You don't have to be a Green Day fan to find this movie interesting, but you'll definitely be more inherently invested in it if you are.

The New York Times

-

While zine-style animated sequences and VHS taped interviews enliven the pace, the documentary is burdened by too much minutiae. Not every scar earned at a concert deserves to be immortalized in a documentary.
Turn It Around: The Story of East Bay Punk (2017)
Turn It Around: The Story of East Bay Punk spans over 30 years of the California Bay Area's punk music history with a central focus on the emergence of the inspiring 924 Gilman Street collective. This diverse group of artists, writers, organizers and musicians created a do-it-yourself petri dish that changed the punk scene... and the world at large.