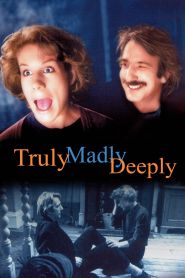 General Information
Glossary: T
Released Year: 1990
Runtime: 106 minutes
Genre: Comedy, Drama, Fantasy, Romance, Sci-Fi
Directors: Anthony Minghella
Writers: Anthony Minghella
Casts: Michael Maloney, Richard Syms, Alan Rickman, David Ryall, Bill Paterson, Juliet Stevenson, Nitin Ganatra, Teddy Kempner, Deborah Findlay, Arturo Venegas, Stella Maris, Mark Long, Frank Baker, Christopher Rozycki, Jenny Howe, Carolyn Choa, Keith Bartlett, Ian Hawkes, Vania Vilers, Graeme Du Fresne, Tony Bluto, Awam Amkpa, Hamilton Baillie, Nick Burge, Steven Deproost, Leroy Joseph, Jonathan Lunn, Eddie Vincent, Tom Yang, Heather Williams
IMDB: Truly Madly Deeply (1990)
Sponsored Links
Ratings
User Rating:
IMDB Rating:
7.2
Reviews
Rolling Stone

-

Writer and first-time director Anthony Minghella lays on the whimsy a bit thick at times, but his wryly funny and heartfelt observations on sorrow go down much easier than the Hollywood brand of lump-in-the-throat histrionics.

Variety

-

This sharply scripted study of a bereaved woman who literally wishes her partner back from the grave is an impressive directorial bow by British playwright Anthony Minghella. Despite surface similarities with Ghost pic has a different feel and theme.

Chicago Reader

-

If the relatively prosaic Minghella, making his movie debut, lacks the suggestive poetic sensibility of Lewton, he does a fine job in capturing the contemporary everyday textures of London life, and coaxes a strong performance out of Stevenson, a longtime collaborator. Full of richly realized secondary characters and witty oddball details, this is a beguiling film in more ways than one.

Austin Chronicle

-

This is a wonderful, disarming film, sort of like Ghost, but with all the Hollywood drained from it, leaving nothing on screen but the truth of the matter. Which is the way it should be, of course.

Chicago Sun-Times

-

Truly, Madly, Deeply, a truly odd film, maddening, occasionally deeply moving.
Truly Madly Deeply (1990)
Nina is totally heartbroken at the death of her boyfriend Jamie, but is even more unprepared for his return as a ghost. At first it's almost as good as it used to be - hey, even the rats that infested her house have disappeared. But Jamie starts bringing ghostly friends home and behaving more and more oddly.