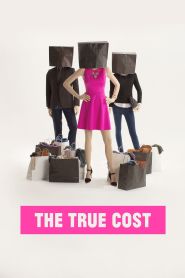 General Information
Glossary: T
Released Year: 2015
Runtime: 92 minutes
Genre: Biography, Documentary, Drama
Directors: Andrew Morgan
Casts: Stella McCartney, Vandana Shiva
IMDB: The True Cost (2015)
Sponsored Links
Ratings
User Rating:
IMDB Rating:
7.7
Reviews
The New York Times

-

Offering few solutions beyond a single fair-trade fashion company, The True Cost — whose serene interludes compete with sickening recordings of Black Friday shopping riots and so-called clothing haul videos — stirs and saddens. Not least because it's unlikely to reach the young consumers most in need of its revelations.

The Dissolve

-

The True Cost's aim is to make it impossible to ignore fashion's impact on the world, and it takes an admirably thorough approach to its unwieldy subject. It's not a particularly cinematic approach, however.

Los Angeles Times

-

One would almost be inclined to give Morgan a pass for interviewing some of his executive producers as expert sources. A bigger disappointment is the missed opportunity to address the significant retailer markups that could have gone toward improving sweatshop conditions instead of profit margins.

Village Voice

-

Even if, like me, you agree with the points that it's fumbling toward, The True Cost will likely read as dopey and insulting.
The True Cost (2015)
Film from Andrew Morgan. The True Cost is a documentary film exploring the impact of fashion on people and the planet.