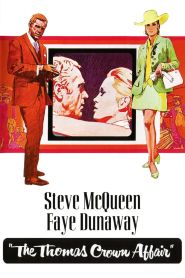 General Information
Glossary: T
Released Year: 1968
Runtime: 102 minutes
Genre: Crime, Drama, Romance, Thriller
Directors: Norman Jewison
Casts: Yaphet Kotto, Gordon Pinsent, Faye Dunaway, Jack Weston, Johnny Silver, Bruce Glover, Sidney Armus, Steve McQueen, Peg Shirley, Nora Marlowe, Judy Pace, Tom Rosqui, Biff McGuire, Addison Powell, Sam Melville, Richard Bull, Astrid Heeren, Paul Burke, Patrick Horgan, Carol Corbett, Michael Shillo, Ted Gehring, Paul Verdier, John Orchard
IMDB: The Thomas Crown Affair (1968)
Sponsored Links
Ratings
User Rating:
IMDB Rating:
7.0
Reviews
Variety

-

the Norman Jewison film tells a crackerjack story, well-tooled, professionally crafted and fashioned with obvious meticulous care. McQueen is neatly cast as the likeable, but lonely heavy. Dunaway makes an excellent detective who gradually develops a conflict of interests regarding her prey. The only message in this film is: enjoy it.

The Hollywood Reporter

-

It is a flashy, undemanding technical achievement, enhanced by the marquee power of Steve McQueen and Faye Dunaway.

The New York Times

-

An ordinary, not wonderful, but highly enjoyable movie.

The New Yorker

-

What gives this trash a life, what makes it entertaining is clearly that the director, Norman Jewison, and some of those involved, knowing of course that they were working on a silly, shallow script used the chance to have a good time with it.

Chicago Sun-Times

-

Possibly the most under-plotted, underwritten, over-photographed film of the year. Which is not to say it isn't great to look at. It is.
The Thomas Crown Affair (1968)
Young businessman, Thomas Crown is bored and decides to plan a robbery and assigns a professional agent with the right information to the job. However, Crown is soon betrayed yet cannot blow his cover because he's in love.