The Sea Beast (2022)
---
The life of a legendary sea monster hunter is turned upside down when a young girl stows away on his ship.
Other Movies You Might Enjoy
---
The Sea Beast (2022)
---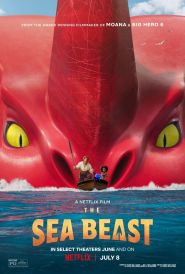 Information
---
Runtime: 115 minutes
Casts:
Jared Harris
,
Kathy Burke
,
Karl Urban
,
Jim Carter
,
Marianne Jean-Baptiste
,
Ian Mercer
,
David S. Lee
,
Brian T. Delaney
,
Dan Stevens
,
Rajia Baroudi
,
Shannon Chan-Kent
,
Emily O'Brien
,
Alex Wyndham
,
Max Mittelman
,
Doon Mackichan
,
Susana Tang
,
Helen Sadler
,
Paul Chowdhry
,
Kaya McLean
,
Benjamin Plessala
,
Zaris-Angel Hator
,
Somali Rose
,
Davis Pak
Storyline
---
The life of a legendary sea monster hunter is turned upside down when a young girl stows away on his ship.
Reviews
---
Screen Daily

-

The latest animation from Chris Williams, his first for Netflix, is a rambunctious triumph; an old-fashioned ripping yarn which pays tribute to generations of monster movies past, showcasing some genuinely dazzling animation while also delivering an unexpectedly sophisticated message.

Paste Magazine

-

A delightful new-school deconstruction of old-school Romantic adventure that never compromises on the lushness of setting, color and emotion inherent in the latter, The Sea Beast rises to the front of Netflix's animated offerings like a high tide.

The A.V. Club

-

Overall, the narrative, performative, and visual splendor of The Sea Beast are enough to vastly outweigh minor issues in presentational consistency. This is a richly realized nautical world, with the animation team expressing an obvious love for the adventure stories that inspired it and a passion for telling a story as hopeful as it is exciting.

Variety

-

In the end, The Sea Beast is a movie about challenging conventional wisdom and figuring things out for yourself, and that's a philosophy that worked on both sides of the camera.

Slashfilm

-

The result is a movie that's as fun as it has things to say, a true animated blockbuster that could play like gangbusters in multiplexes (if there is any indication from the world premiere at the Annecy International Animation Film Festival, where the crowd went wild towards the climax of the film), and lingers on your mind long after the credits roll.