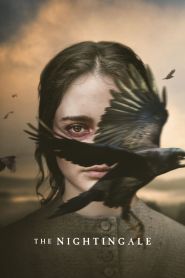 General Information
Glossary: T
Released Year: 2019
Runtime: 136 minutes
Genre: Adventure, Drama, Thriller
Directors: Jennifer Kent
Writers: Jennifer Kent
Casts: Ewen Leslie, Sam Claflin, Damon Herriman, Ben McIvor, Matthew Sunderland, Charlie Shotwell, Harry Greenwood, Nathaniel Dean, Aisling Franciosi, Baykali Ganambarr, Magnolia Maymuru, Sam Smith, Michael Sheasby, Luke Carroll, Claire Jones
IMDB: The Nightingale (2019)
Sponsored Links
Ratings
User Rating:
IMDB Rating:
7.2
Reviews
The Film Stage

-

It is as compelling and urgent as it is impossible to stomach.

The A.V. Club

-

There's a tragic, moving resonance to the film's vision of two marginalized characters—one Black, the other a woman, both stripped of everything—finding common ground in their parallel trauma and resistance. It's there in the scenes between Franciosi and first-time actor Ganambarr, forging empathy and a mutual respect in the fire of survival, without a hint of bathetic sentimentality.

Variety

-

Kent's elemental revenge tale attains a near-mythic grandeur over the course of its arduous, ravishing trek. Some stricter editing wouldn't go amiss, particularly in a needlessly baggy, to-and-fro finale, but it's a pretty magnificent mass of movie.

Los Angeles Times

-

This is a profound and difficult film, an attempt to grapple with the existence and mindless perpetuation of evil, and to suggest both the fleeting satisfaction and the eternal futility of vengeance. Nothing about it is easy, and everything it shows us matters.

IndieWire

-

Acclaimed filmmakers often face the challenge of big expectations on their second features, but Kent joins the ranks of sophomore filmmakers whose new movies expand on their debuts in startlingly ambitious ways.
The Nightingale (2019)
In 1825, Claire, a 21-year-old Irish convict, chases a British soldier through the rugged Tasmanian wilderness, bent on revenge for a terrible act of violence he committed against her family. She enlists the services of an Aboriginal tracker named Billy, who is also marked by trauma from his own violence-filled past.