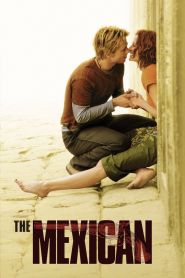 General Information
Glossary: T
Released Year: 2001
Runtime: 123 minutes
Genre: Action, Comedy, Crime, Romance
Directors: Gore Verbinski
Casts: J.K. Simmons, David Krumholtz, Daniel Escobar, Arthur Taxier, Brad Pitt, Lawrence Bender, Angelina Peláez, James Gandolfini, Clint Curtis, Julia Roberts, Carlos Lacámara, Gerardo Taracena, Mayra Serbulo, Bob Balaban, Jeremy Roberts, Gene Hackman, Pedro Armendáriz Jr., Daniel Zacapa, José Carlos Rodríguez, Ernesto Gómez Cruz, Castulo Guerra, Dale Raoul, Emiliano Guerra, Jorge Malpica, Richard Coca, Sherman Augustus, Miguel Ángel Fuentes, Michael Cerveris, Salvador Sánchez, Fermín Martínez , Alan Ciangherotti, Melisa Romero, Steve Rossi, Ariane Pellicer, Alfredo Escobar, Luis Artagnan, Gustavo Aguilar Tejada, Lucía Pailles, Gilberto Barraza, Humberto Fernández Tristan, Luis Felipe Tovar, Fausta Torres, Loló Navarro, William Fuller, John Pisci, Rudy Aikels, Ronald Simone
IMDB: The Mexican (2001)
Sponsored Links
Ratings
User Rating:
IMDB Rating:
6.1
Reviews
Austin Chronicle

-

Plenty of killings abound, nevertheless the film is a masterful -- albeit warped -- love-story-cum-road-movie that revolves around three of the most invigorating performances of the year.

Miami Herald

-

Surprisingly enjoyable.

Philadelphia Inquirer

-

This violently comic caper has some spunky charm going for it -- but has a lot of self-consciously hip, studied wackiness going against it.

TV Guide Magazine

-

Apparently intended as a larky, character-driven adventure with dark underpinnings, this attenuated road movie was originally envisioned as a vehicle for relative unknowns, and might have worked better that way.

USA Today

-

Superstars usually avoid movies this spiritless, and it's tough to believe anyone could read this script and fail to realize the movie wouldn't end up going anywhere.
The Mexican (2001)
Jerry Welbach, a reluctant bagman, has been given two ultimatums: The first is from his mob boss to travel to Mexico and retrieve a priceless antique pistol, known as "the Mexican"... or suffer the consequences. The second is from his girlfriend Samantha to end his association with the mob. Jerry figures alive and in trouble with Samantha is better than the more permanent alternative, so he heads south of the border.