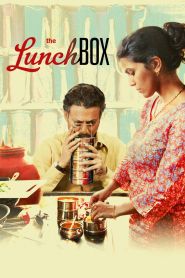 General Information
Glossary: T
Released Year: 2013
Runtime: 104 minutes
Genre: Drama, Romance
Directors: Ritesh Batra
Casts: Irrfan Khan, Lillete Dubey, Nawazuddin Siddiqui, Denzil Smith, Shruti Bapna, Nimrat Kaur, Nakul Vaid, Bharati Achrekar, Yashvi Punneet Nagar, Nasir Khan, Lokesh Rai, Vidhya Dhar, Sadashiv Kondaji Pokarkar, Aarti Rathod, Krishna Bai, Raj Rishi More, Santosh Kumar Chaurasiya, Swapnil Shirirao, Avijit Khanwilkar, Aakash Sinha, Xavier Hodges, Rosemary Hodges, Hubart Vossoaker, Rosemary Vossoaker, Flory Vossoaker, Sebastian Vossoaker, Quitira Vossoaker, Baaburao Sankpal, Chandrakantha Rajani, Kancha Karki, Ravindra Dubey, Narendra Arora, Ashwin Desai, Mahesh Mahadev Salavkar, Krishna Mandal, Calvin Desilva, Craig Narona, Kyeron Kandoria, Shubh Jadav
IMDB: The Lunchbox (2013)
Sponsored Links
Ratings
User Rating:
IMDB Rating:
7.8
Reviews
McClatchy-Tribune News Service

-

It's an intimate, quiet and slow-paced romance, a simple, richly rewarding movie in the classic style of India's greatest filmmaker, the late Satyajit Ray.

Variety

-

Batra adeptly plays on the tension of will they or won't they meet, making good decisions based on character and situation rather than the need to uplift an audience.

The Dissolve

-

Going strictly by plot description, Ritesh Batra's The Lunchbox sounds a little like an Indian knock-off of a Nicholas Sparks movie, but it plays out more like Brief Encounter.

The Playlist

-

Batra's film is ultimately less about love than about the vulnerability relationships place us in emotionally, and courage required to move past pain, and experience life again after we've been hurt.

Slant Magazine

-

The patience in mercurially presenting the characters' backstories and desires is matched by the film's genuine curiosity about the healing power of sharing stories.
The Lunchbox (2013)
A mistaken delivery in Mumbai's famously efficient lunchbox delivery system (Mumbai's Dabbawallahs) connects a young housewife to a stranger in the dusk of his life. They build a fantasy world together through notes in the lunchbox. Gradually, this fantasy threatens to overwhelm their reality.