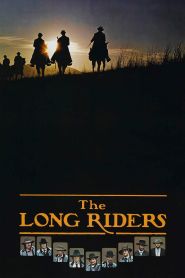 General Information
Glossary: T
Released Year: 1980
Runtime: 99 minutes
Genre: History, Western
Directors: Walter Hill
Writers: James Keach, Stacy Keach, Bill Bryden, Steven Philip Smith
Casts: James Remar, Dennis Quaid, David Carradine, Nicholas Guest, Keith Carradine, Lin Shaye, Randy Quaid, Pamela Reed, James Keach, Shelby Leverington, Christopher Guest, Stacy Keach, Robert Carradine, Harry Carey, Jr., Ry Cooder, Felice Orlandi, Kevin Brophy
IMDB: The Long Riders (1980)
Sponsored Links
Ratings
User Rating:
IMDB Rating:
7.0
Reviews
TV Guide Magazine

-

THE LONG RIDERS is one of the last great westerns made in America, directed tautly by Walter Hill from an excellent, well-researched script. The cinematography by Ric Waite is magnificent, the period is beautifully captured, and Ry Cooder's outstanding score nicely incorporates folk music of the era. The whole feeling of this film is one of antiquity, an atmosphere marvelously created by Hill and enhanced by a superb cast.

Time

-

Hill wants the viewer to read his frames, not his dialogue; lighting, angles and cut ting carry the weight of meaning. Perhaps he sends too many people to meet their maker in balletic slow-motion. But that is only a small reservation. Hill is very much in the American grain, the inheritor of the Ford-Hawks-Walsh tradition of artful, understated action film making.

Time Out London

-

Concentrating on familiar rituals - the funeral, the hoe-down, the robbery (a stunning tour de force in slow motion) - Hill pays tribute to such directors as Ford, Hawks and Ray, emphasises the mythic aspects of the Western, and focuses on the subjects of kinship and the land (probably suggested by Scotsman Bill Bryden's screenplay). This last theme is emphasised by Hill's coup of casting real-life brothers as the members of the gang. A beautiful, laconic and unsentimental film.

Variety

-

What's ultimately missing is a definable point of view which would tie together the myriad events on display and fill in the blanks which Hill has imposed on the action by sapping it of emotional or historical meaning.

Chicago Reader

-

Walter Hill's first outright failure, this revisionist western draws on the major themes of his work—the relationship of pursuer and pursued; the beauty of clean, planned action; the attraction to violence and resultant moral revulsion—but none of them ignites.
The Long Riders (1980)
The origins, exploits and the ultimate fate of the James gang is told in a sympathetic portrayal of the bank robbers made up of brothers who begin their legendary bank raids because of revenge.