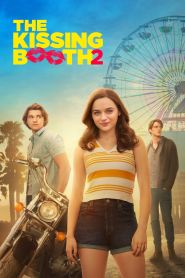 General Information
Glossary: T
Released Year: 2020
Runtime: 132 minutes
Genre: Comedy, Romance
Directors: Vince Marcello
Casts: Joey King, Matthew Dylan Roberts, Joel Courtney, Stephen Jennings, Molly Ringwald, Meganne Young, Byron Langley, Julie Summers, Kevin Otto, Dylan Edy, Maisie Richardson-Sellers, D. David Morin, Joshua Daniel Eady, Jacob Elordi, Toni Jean Erasmus, Morné Visser, Frances Sholto-Douglas, Nathan Lynn, Carson White, Michelle Allen, Judd Krok, Camilla Wolfson, Motsi Tekateka, Evan Hengst, Grant Ross, Taylor Zakhar Perez, Bianca Bosch, Zandile Madliwa, Sanda Shandu, Hilton Pelser, Trent Rowe, Chloe Williams, Aidan Scott, Joseph Gaza, Caleb Swanepoel, Julian Place, Glen Biderman-Pam, Jason K. Ralph, Robyn Scott, Amrain Ismail-Essop, Waldemar Schultz, Tasche Adams, Maria Pretorius, Sean Barenblatt, Shana Mans, Jeanne Neilson, Kai Luke Brummer, Nadia Kretschmer, Lya du Toit, Robin B. Smith, Cesar Velasquez Ponce, Bianca Amato, Carishma Basday, Noa Milan
IMDB: The Kissing Booth 2 (2020)
Sponsored Links
Ratings
User Rating:
IMDB Rating:
5.9
Reviews
IndieWire

-

While it offers some necessary growth for all of its characters, The Kissing Booth 2 can never resist looking and acting like dozens of other offerings of its genre ilk, unable to grow beyond basic complications and done-to-death dramas. And yet there are hints that its evolution has a few more tricks left to employ, its winking conclusion only one of them.

The A.V. Club

-

In broadening the world of the first film without really deepening it, The Kissing Booth 2 often feels more like a spinoff TV series—although at an unconscionable 132 minutes long, it's hardly a breezy watch.

The Hollywood Reporter

-

As I might have said during my own high school days, The Kissing Booth 2 is "mad stupid," but it's still not as overtly slappable as Netflix's other low-budget teen comedies.

Time

-

Other questions to ponder: Is The Kissing Booth 2 a good movie? Yes and no. Is the acting adequate, if not necessarily good? Yes and no. Is it a wholly accurate depiction of young love in any era, past or present? Yes and no. The Kissing Booth 2 — directed, as was the first installment, by Vince Marcello — is kind of terrible and kind of wonderful.

The New York Times

-

If The Kissing Booth, stacked with regressive relationship dynamics, is Victorian in its views, The Kissing Booth 2 progresses to the midcentury.
The Kissing Booth 2 (2020)
With college decisions looming, Elle juggles her long-distance romance with Noah, changing relationship with bestie Lee and feelings for a new classmate.