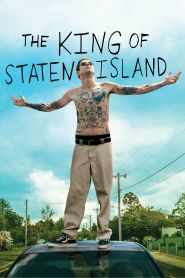 General Information
Glossary: T
Released Year: 2020
Runtime: 137 minutes
Genre: Comedy, Drama
Directors: Judd Apatow
Writers: Judd Apatow, Pete Davidson, Dave Sirus
Casts: Maude Apatow, Steve Buscemi, Kevin Corrigan, Marisa Tomei, Moisés Arias, Domenick Lombardozzi, Bill Burr, Robert Smigel, Keith Robinson, Marilyn Torres, Nina Hellman, Pamela Adlon, Nils Johnson, Jimmy Tatro, Machine Gun Kelly, Pete Davidson, Bel Powley, Nana Mensah, Jimmy Star, Teodorina Bello, Jessica Kirson, Emma R. Mudd, Action Bronson, Anthony Lee Medina, Lou Wilson, Leonys Delossantos, Ken Holmes, Ricky Velez, Pauline Chalamet, Carly Aquilino, Robert Vidal III, Angus Costello, Lynne Koplitz, Joseph Paul Kennedy, Jack Hamblin, Stephen Davidson, Luke David Blumm, Liza Treyger, Derek Gaines, Meredith Handerhan, Rich Vos, Bonnie McFarlane, Jay Rodriguez, Giselle King, John Sorrentino, Alexis Rae Forlenza, Rafael Poueriet, Kill, Nyla Durdin, Katherine Ray Zimmerman, Lilly Brown, Laurence Blum, David Lomax, Casey Davidson, Antony Marino, Mario Polit, Mike Vecchione, Hank Strong, Michelle Sohn, Vincent Paolicelli, Kadrolsha Ona Carole, Mark Lehneman, Bob Leszczak, Marisa Marra, Melania Zalipsky
IMDB: The King of Staten Island (2020)
Sponsored Links
Ratings
User Rating:
IMDB Rating:
7.2
Reviews
IndieWire

-

The King of Staten Island may not be the most flavorful thing that Apatow has ever served up, and it could be high time for him to consider a new recipe, but this wry and tender five-course meal of a movie still makes you glad that he's not afraid to be himself — even when he's telling someone else's story.

The Guardian

-

The King of Staten Island is not structurally perfect. There is a rather contrived crisis the purpose of which is to bring Claire, Scott and Ray together at last, but there is charm and gentleness in this new stepfamily. Powley's performance and the final shots of the Staten Island ferry brought back happy memories of Joan Cusack in Mike Nichols's 80s classic, Working Girl. There are a lot of laughs here.

Screen Rant

-

Davidson is a triumph in The King of Staten Island, delivering plenty of fun R-rated humor in an emotionally compelling story about growing up.

San Francisco Chronicle

-

Davidson's appeal is essential to the movie's success. If you know him only from "Saturday Night Live," you'll be surprised by him here. On "SNL," he can be zany and annoying. Here he has a very particular quality that seems to be coming from a place of past pain. He has equanimity. Without making a fuss about it, he's attentive to other people's feelings. He just seems like a decent, thoughtful young guy, someone that you'd like to see come into his own.

ScreenCrush

-

At 137 minutes, The King of Staten Island is a long movie, but not too long. I never got bored or wanted Apatow to wrap things up. If anything I wanted to spend more time with some of the supporting characters, particularly Bel Powley as Scott's longtime friend (turned occasional hookup partner) Kelsey.
The King of Staten Island (2020)
Scott has been a case of arrested development ever since his firefighter father died when he was seven. He's now reached his mid-20s having achieved little, chasing a dream of becoming a tattoo artist that seems far out of reach. As his ambitious younger sister heads off to college, Scott is still living with his exhausted ER nurse mother and spends his days smoking weed, hanging with the guys — Oscar, Igor and Richie — and secretly hooking up with his childhood friend Kelsey. But when his mother starts dating a loudmouth firefighter named Ray, it sets off a chain of events that will force Scott to grapple with his grief and take his first tentative steps toward moving forward in life.