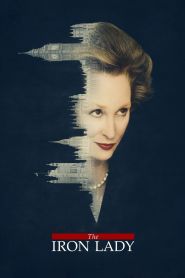 General Information
Glossary: T
Released Year: 2011
Runtime: 105 minutes
Genre: Biography, Drama
Directors: Phyllida Lloyd
Casts: Meryl Streep, Anthony Stewart Head, Harry Lloyd, Jim Broadbent, Susan Brown, Alice da Cunha, Phoebe Waller-Bridge, Iain Glen, Alexandra Roach, Victoria Bewick, Olivia Colman, Eloise Webb, Sylvestra Le Touzel, Michael Culkin, Michael Cochrane, Nicholas Farrell, John Sessions, David Westhead, Julian Wadham, Richard E. Grant, Roger Allam, Stephen Boxer, Simon Chandler, Michael Pennington, Andrew Havill, Matthew Marsh, Nicholas Jones, David Rintoul, Pip Torrens, Michael Maloney, Robert Portal, Angela Curran, David Cann, Rupert Vansittart
IMDB: The Iron Lady (2011)
Sponsored Links
Ratings
User Rating:
IMDB Rating:
6.4
Reviews
Entertainment Weekly

-

Streep is a pleasure to behold; less so the rest of The Iron Lady.

The Hollywood Reporter

-

Meryl Streep gives a fully realized portrait of British Prime Minister Thatcher in a biopic that values character over context.

Slant Magazine

-

The wonder and terror of Meryl Streep's performance in The Iron Lady is her formidable ability to nail the disheartening talents of not just Margaret Thatcher, but so many conservative politicians like her, who have a tremendous knack for changing minds and beckoning cheers while underlining their own rigid ignorance.

Variety

-

Fuzzy-headed biopic, which glosses over the former British prime minister's politics in favor of a glib, breakneck whirl around her career and marriage.

Observer

-

Let it be said that Ms. Streep is galvanizing, even as the film slogs through too much information and not nearly enough illumination.
The Iron Lady (2011)
A look at the life of Margaret Thatcher, the former Prime Minister of the United Kingdom, with a focus on the price she paid for power.