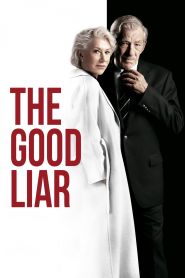 General Information
Glossary: T
Released Year: 2019
Runtime: 109 minutes
Genre: Crime, Drama, Mystery
Directors: Bill Condon
Casts: Michael Culkin, Mark Lewis Jones, Ian McKellen, Jim Carter, Helen Mirren, Russell Tovey, Lucian Msamati, Phil Dunster, Aleksandar Jovanović, Jóhannes Haukur Jóhannesson, Nell Williams, Laurie Davidson
IMDB: The Good Liar (2019)
Sponsored Links
Ratings
User Rating:
IMDB Rating:
6.5
Reviews
Variety

-

The pleasure of The Good Liar, and it's a major one, is the chance to watch Mirren and McKellen act together in a cat-and-mouse duet that turns into an elegant waltz of affection and deception.

The Guardian

-

This movie rattles along with terrific energy and dash and the flashback sequences show that it's actually far more daring and ambitious that you might expect. It's a great duel between McKellen and Mirren.

San Francisco Chronicle

-

The back and forth, the listening and reacting between Mirren and McKellen, as each of their characters gauges the other and as we mark the incremental shifts and exchanges of power, is pure pleasure.

IndieWire

-

Pleasant and preposterous in almost precisely equal measure, the film never offers anything less than two all-time British actors having the time of their lives, which makes it hard to get frustrated that it seldom offers anything more.

The Globe and Mail (Toronto)

-

A con-artist movie that is something of a con itself.
The Good Liar (2019)
Career con man Roy sets his sights on his latest mark: recently widowed Betty, worth millions. And he means to take it all. But as the two draw closer, what should have been another simple swindle takes on the ultimate stakes.