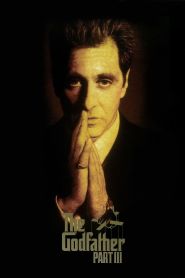 General Information
Glossary: T
Released Year: 1990
Runtime: 162 minutes
Genre: Crime, Drama, Mystery, Thriller
Directors: Francis Ford Coppola
Casts: Al Pacino, Diane Keaton, Talia Shire, Andy García, Eli Wallach, Joe Mantegna, George Hamilton, Bridget Fonda, Sofia Coppola, Raf Vallone, Franc D'Ambrosio, Donal Donnelly, Richard Bright, Helmut Berger, Don Novello, John Savage, Franco Citti, Mario Donatone, Vittorio Duse, Enzo Robutti, Michele Russo, Al Martino, Robert Cicchini, Rogerio Miranda, Carlos Miranda, Vito Antuofermo, Robert Vento, Willie Brown, Jeannie Linero, Jeanne Savarino Pesch, Janet Savarino Smith, Tere Livrano, Carmine Caridi, Don Costello, Al Ruscio, Mickey Knox, Rick Aviles, Michael Bowen, Brett Halsey, Gabriele Torrei, Brian Freilino, Gregory Corso, Marino Masé, Dado Ruspoli, Valeria Sabel, Remo Remotti, Luigi Laezza, Giuseppe Pianviti, Santo Indelicato, Simonetta Stefanelli, Francesco Paolo Bellante, Paco Reconti, Mimmo Cuticchio, Richard Honigman, Nicky Blair, Anthony Guidera, Frank Tarsia, Diana Agostini, Jessica DiCicco, Catherine Scorsese, Ida Bernardini, Joe Drago, David Hume Kennerly, James D. Damiano, Michael Boccio, Ludovico Caldarera, R. Emmett Fitzsimmons, Salvatore Borghese, Salvatore Billa, Frank Ferrara, Gia Coppola, Joe Fontana, Richard Maldone, Tony Devon, Anton Coppola, Carmine Coppola, Ron Jeremy, F.X. Vitolo, David L. Thompson, Angelo Romero, Madelyn Renée Monti, Luciano Foti, Frank Albanese, John Abineri
IMDB: The Godfather Part III (1990)
Sponsored Links
Ratings
User Rating:
IMDB Rating:
7.6
Reviews
Entertainment Weekly

-

In this brilliantly sustained climax, Coppola unveils a vision of corruption that embraces the entire world, but he's also reveling in sheer theatrical magic in a way that only a master can.

Variety

-

Part III matches its predecessors in narrative intensity, epic scope, socio-political analysis, physical beauty and deep feeling for its characters and milieu.

Chicago Sun-Times

-

It's strange how the earlier movies fill in the gaps left by this one, and answer the questions. It is, I suspect, not even possible to understand this film without knowing the first two, and yet, knowing them, Part III works better than it should.

ReelViews

-

One of the most obvious problems with The Godfather Part III is that it covers little new territory. The plot is highly derivative of the original.

Chicago Reader

-

A provocative and stirring climax to the Corleone saga, as well as an autonomous work that sometimes shows Coppola at his near best.
The Godfather Part III (1990)
In the midst of trying to legitimize his business dealings in 1979 New York and Italy, aging mafia don, Michael Corleone seeks forgiveness for his sins while taking a young protege under his wing.