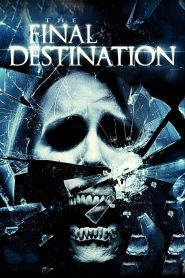 General Information
Glossary: T
Released Year: 2009
Runtime: 82 minutes
Genre: Horror, Thriller
Directors: David R. Ellis
Writers: Eric Bress
Casts: Mykelti Williamson, Andrew Fiscella, Krista Allen, Justin Welborn, Dane Rhodes, Lara Grice, Nick Zano, Stephanie Honoré, Bobby Campo, Shantel VanSanten, Haley Webb, Jackson Walker, Jedda Jones, Trey Burvant, Eric Paulsen, Phil Austin, Chris Fry, Tina Parker, Cecile Monteyne, William Aguillard, Brendan Aguillard, Harold Evans, Gabrielle Chapin, Joshua Hinson
IMDB: The Final Destination 4 (2009)
Sponsored Links
Ratings
User Rating:
IMDB Rating:
5.2
Reviews
Time Out

-

Too many digital effects ruin the spell of a tactile world of evil objects scheming your demise. But even a mediocre FD is better than more Jigsaw.

Entertainment Weekly

-

It's no exaggeration to say that the actors have less personality than the pipes, nail guns, grinding gears, decaying beams, and slowly spreading oil spills that are fused, with a kind of empty-dread technical precision, into Rube Goldberg torture devices.

L.A. Weekly

-

Ellis and screenwriter Eric Bress even go all meta on us with an "Inglourious Basterds"–esque finale set inside a 3D cinema, though their set pieces never quite muster the giddy brio of "Final Destination 1" and "3" auteur James Wong at his best.

Los Angeles Times

-

Though this latest entry has an OK sense of humor, moves swiftly enough and sports an effective opening sequence of racetrack destruction that puts its Fusion 3-D technology to good use, it mostly comes off as a particularly flimsy excuse to string together a bunch of gory killings.

Empire

-

The novelty factor stops and starts at the 3-D specs: this is a horror movie on tracks, not going anyplace new. Still, there's some inventive grue-splashing as always.
The Final Destination 4 (2009)
After a young man's premonition of a deadly race-car crash helps saves the lives of his peers, Death sets out to collect those who evaded their end.