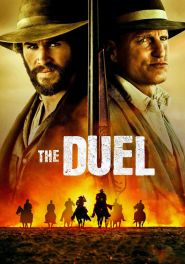 General Information
Glossary: T
Released Year: 2016
Runtime: 110 minutes
Genre: Drama, Western
Directors: Kieran Darcy-Smith
Writers: Matt Cook
Casts: Woody Harrelson, William Sadler, Jimmy Lee Jr., José Zúñiga, Alice Braga, Liam Hemsworth, John McConnell, Douglas M. Griffin, Lawrence Turner, Raphael Sbarge, Emory Cohen, Christopher Berry, Kerry Cahill, Christopher James Baker, Felicity Price, David Born, Sue Rock, Doug Van Liew, Gloria Sandoval, Matthew Frias, Giles Matthey, Johnny McPhail, Benedict Samuel, Sue-Lynn Ansari, Jeremy Sande, Kim Hidalgo, Jason Carter, Josh Whites, Heather Le Roy, Hector Machado, Kelly Bellini, Marlin Richardson, Ashton Evers, Caleb J. Thaggard, Chester Rushing, Danny Cabrera, Michael Watson, Greg Dees, Mallorie Lindsey, Indiana O'Loughlin, Alaine Tyler, Alana Whites
IMDB: The Duel (2016)
Sponsored Links
Ratings
User Rating:
IMDB Rating:
5.8
Reviews
The A.V. Club

-

Blessed with solid supporting character work and several scenes of genuine good fun, the movie manages to make its nearly two-hour run-time pass by easily enough, but not so much so that the seams on this patchwork quilt don't still show.

Entertainment Weekly

-

The plot may be fairly predictable, but Harrelson goes all in as the deranged preacher, and he's a delight to watch, whether he's wiggling his eyebrow tattoos or prancing about town on horseback, dressed in an all-white suit. Hemsworth, on the other hand, remains monotone.

Observer

-

The theme is racism, insanity and savage brutality in Texas. Some things never change. I guess it's a new-fangled old-fashioned western.

The Seattle Times

-

Despite promising elements of mixed-genre thrills, the film is finally the underwhelming sum of too many plot devices.

RogerEbert.com

-

There's a lot more nonsense here, all of which starts out intriguingly before overstaying its welcome.
The Duel (2016)
A Texas Ranger investigates a series of unexplained deaths in a town called Helena.