The Craft: Legacy (2020)
---
An eclectic foursome of aspiring teenage witches get more than they bargained for as they lean into their newfound powers.
Other Movies You Might Enjoy
---
The Craft: Legacy (2020)
---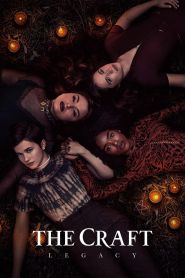 Information
---
Runtime: 94 minutes
Casts:
Michelle Monaghan
,
David Duchovny
,
Charles Vandervaart
,
Fairuza Balk
,
Nicholas Galitzine
,
James Madge
,
Gideon Adlon
,
Cailee Spaeny
,
Michael Dara
,
Zoey Luna
,
Lovie Simone
,
Julian Grey
,
Donald MacLean Jr.
,
Hannah Gordon
,
Chris Tomassetti
,
Kris Siddiqi
,
Victor Chiu
,
Devin Cecchetto
,
Debbie Fan
,
Heath V. Salazar
,
Eddie Max Huband
,
Travis Caverhill
,
Owen Szabo
Storyline
---
An eclectic foursome of aspiring teenage witches get more than they bargained for as they lean into their newfound powers.
Reviews
---
IndieWire

-

The result is an entertaining and insightful mashup of tropes, both respectful of what came before and willing to try new tricks. Being a weirdo, it seems, has never gone out of fashion, but now it has a different kind of future to conjure up.

IGN

-

I absolutely love the first half of this film. Lister-Jones recaptures the magic of the original by welcoming the audience into a cool coven with warmth and radiant leads. It's a pleasure to tag along with this dynamic squad, whether they're dabbling in telekinesis, flirting with a crush, or taking on the forces of evil and misogyny. Slow-motion of moments awkward, lusty, and celebratory envelop us in the overwhelming emotions of the heady time that is teendom. Sadly, this spirited and powerful path is abandoned to lay the groundwork for a sequel that is -- as far we know -- not a certainty. Such plotting bogs down the rich and rewarding story of friendship, self-acceptance, and growth. Still, that franchise-forward choice aside, this sequel is wickedly fun and bewitching.

The A.V. Club

-

Writer-director Zoe Lister-Jones places less emphasis on the culture surrounding witchcraft—there's no occult store to shoplift from in this film, for example—and more on the girls' innate supernatural powers, manifested mostly as sparkly wisps of CGI and stunt people in harnesses being jerked across the frame. This is of a piece with more contemporary teen-witch entertainment like the rebooted Chilling Adventures Of Sabrina, as well as the film's message about finding and harnessing one's own innate magic.

The Guardian

-

There's ultimately too much in the film's rushed 94-minute runtime for anything to really breathe.

Los Angeles Times

-

Everything hums along until it abruptly crashes and burns, and one can't help but wonder if the film was picked apart to fit a PG-13 rating (the original is R) and a sub-100-minute runtime.