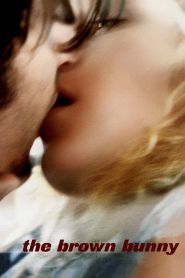 General Information
Glossary: T
Released Year: 2004
Runtime: 93 minutes
Genre: Drama
Directors: Vincent Gallo
Casts: Vincent Gallo, Chloë Sevigny, Cheryl Tiegs, Elizabeth Blake, Anna Vareschi, Mary Morasky
IMDB: The Brown Bunny (2004)
Sponsored Links
Ratings
User Rating:
IMDB Rating:
5.0
Reviews
Entertainment Weekly

-

It's hard to deny that Gallo has caught the freedom and melancholy, the intoxicating aimlessness, the lonely twilight beauty of a solo road trip in a way that no previous filmmaker quite has.

Variety

-

An astonishing improvement on the original version. With 27 minutes excised, pic emerges from its mind-numbing undergrowth as a memorable -- if still highly specialized -- exercise in personal, '70s-style American filmmaking, with a cohesive feel and rhythm that marks Gallo as a distinctive indie talent.

Village Voice

-

It's genuinely elemental, embarrassingly sincere. You can't accuse Gallo of pandering to anyone but himself. Not just a one-man band, he is his own entourage -- and likely to remain so. And that anguished solipsism seems to be, at least in part, the movie's subject.

The A.V. Club

-

If the independent film world were littered with alleged disasters like The Brown Bunny, the scene would be far richer for it.

The New York Times

-

Neither an atrocity nor a revelation, The Brown Bunny is a very watchable, often beautiful-looking attempt by Mr. Gallo to reproduce the kind of loosely structured mood pieces that found American and select foreign-language cinemas of the 1960's and 70's often at their most adventurous.
The Brown Bunny (2004)
Bud Clay races motorcycles in the 250cc Formula II class of road racing. After a race in New Hampshire, he has five days to get to his next race in California. During his road trip, he is haunted by memories of the last time he saw Daisy, his true love.