A Simple Plan (1998)
---
Captivated by the lure of sudden wealth, the quiet rural lives of two brothers erupt into conflicts of greed, paranoia and distrust when over $4 million in cash is discovered at the remote site of a downed small airplane. Their simple plan to retain the money while avoiding detection opens a Pandora's box when the fear of getting caught triggers panicked behavior and leads to virulent consequences
Other Movies You Might Enjoy
---
A Simple Plan (1998)
---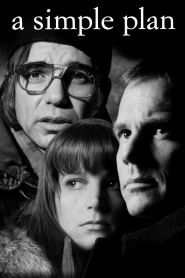 Information
---
Runtime: 121 minutes
Storyline
---
Captivated by the lure of sudden wealth, the quiet rural lives of two brothers erupt into conflicts of greed, paranoia and distrust when over $4 million in cash is discovered at the remote site of a downed small airplane. Their simple plan to retain the money while avoiding detection opens a Pandora's box when the fear of getting caught triggers panicked behavior and leads to virulent consequences
Reviews
---
Washington Post

-

But [Raimi]'s instructed his fabulous Style to take a hike, and, working from Scott Smith's brilliantly reconfigured script from Smith's own (much darker) novel, delivers a piece that is severe and disciplined in its evocation of the cold terrors of fate.

Washington Post

-

With elegant, clockwork construction, Smith has transplanted his novel of greed, betrayal and getting what you deserve to the screen, where it is told by director Sam Raimi with a spareness befitting the whiteness of its snowed-in setting.

Entertainment Weekly

-

Lean, elegant, and emotionally complex -- a marvel of backwoods classicism.

The New York Times

-

When you get the shivers watching this wintry tale unfold, it won't be from the cold.

Village Voice

-

As straightforward in narrative as it is gut-wrenching in effect, A Simple Plan is a sort of slow-motion skid down an icy blacktop— it's a movie you watch with a mounting sense of dread...[It's] an extremely credible thriller and an affecting brother-story.