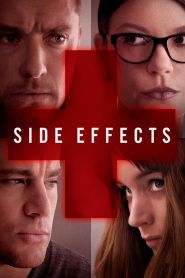 General Information
Glossary: S
Released Year: 2013
Runtime: 106 minutes
Genre: Crime, Drama, Thriller
Directors: Steven Soderbergh
Casts: Jude Law, Polly Draper, Elizabeth Rodriguez, Channing Tatum, Peter Friedman, Marin Ireland, Catherine Zeta-Jones, J. Claude Deering, Rooney Mara, Davenia McFadden, David Costabile, Andrea Bogart, Vinessa Shaw, Devin Ratray, Russell G. Jones, Mamie Gummer, Ann Dowd, Victor Cruz, Laila Robins, Michael Nathanson, Vladimi Versailles, Michelle Vergara Moore, Mitchell Michaeliszyn, Sasha Bardey, Carmen Pelaez, James Martinez, Jacqueline Antaramian, Timothy Klein, Sheila Tapia
IMDB: Side Effects (2013)
Sponsored Links
Ratings
User Rating:
IMDB Rating:
7.1
Reviews
IndieWire

-

The scenes pile up with frenetic intensity; as with Soderbergh's other recent exercises in the suspense genre, no single cutaway goes wasted.

Variety

-

Steven Soderbergh's elegantly coiled puzzler spins a tale of clinical depression and psychiatric malpractice into an absorbing, cunningly unpredictable entertainment that, like much of his recent work, closely observes how a particular subset of American society operates in a needy, greedy, paranoid and duplicitous age.

New York Magazine (Vulture)

-

Soderbergh's alleged last theatrical film is paranoid and hopeless, but he leaves the field with a bounce in his step.

Village Voice

-

If Side Effects, an immensely pleasurable thriller centering around psychotropic drugs, really is Steven Soderbergh's final big-screen film, as the director claims it will be, then he has peaked in the Valley of the Dolls.

The Playlist

-

The picture's conspiratorial late-night tone and fleshy after hours luridness was practically built for watching at night, when our parents think we've gone off to bed (think '80s films directed by folks like Adrian Lyne).
Side Effects (2013)
A woman turns to prescription medication as a way of handling her anxiety concerning her husband's upcoming release from prison.