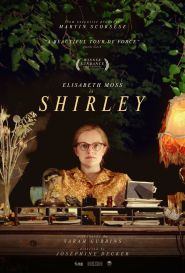 General Information
Glossary: S
Released Year: 2020
Runtime: 107 minutes
Genre: Drama, Thriller
Directors: Josephine Decker
Casts: Logan Lerman, Michael Stuhlbarg, Steve Vinovich, Elisabeth Moss, Allen McCullough, Paul O'Brien, Orlagh Cassidy, Robert Wuhl, Odessa Young, Tony Manna, Lexa Hayes, Thomas Racek, Victoria Pedretti, Bisserat Tseggai, Molly Fahey, Edward O'Blenis, Ryan Spahn, Adelind Horan, Emily Decker, Ava Langford
IMDB: Shirley (2020)
Sponsored Links
Ratings
User Rating:
IMDB Rating:
6.2
Reviews
The Playlist

-

One of the masterstrokes of Sarah Gubbins's screenplay is how deftly she underscores the differences in the perception and presentation of the sicknesses within this marriage.

The Hollywood Reporter

-

Gubbins' script is tart, verbally lively and neatly constructed, while director Josephine Decker, in her first outing since her well-received 2018 Sundance entry Madeline's Madeline, keeps a very tight rein on things, adroitly mixing in tension, innuendo and dark humor to keep the drama at a satisfying low boil most of the way.

Slashfilm

-

This is a fictional biography, and yet every moment rings true.

TheWrap

-

Decker is a superbly imaginative director, which leaves one wishing her creative powers had pushed the film even further away from the constraints of reality. But that's a downside that comes with working from material written by another artist.

IndieWire

-

Decker's characteristically sawtoothed and delirious new film is set in the same latent space between fact and fantasy — a story and its telling — where she located all of her previous work.
Shirley (2020)
A famous horror writer finds inspiration for her next book after she and her husband take in a young couple.