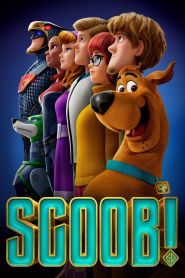 General Information
Glossary: S
Released Year: 2020
Runtime: 94 minutes
Genre: Adventure, Animation, Comedy, Family, Mystery
Directors: Tony Cervone
Casts: Mark Wahlberg, Fred Tatasciore, Justina Machado, Ken Jeong, Jason Isaacs, Frank Welker, John DiMaggio, Amanda Seyfried, Adam Sztykiel, Pierce Gagnon, Tracy Morgan, Christina Hendricks, Billy West, Zac Efron, Henry Winkler, Simon Cowell, Will Forte, Michael Kurinsky, Kevin Heffernan, Ryan Folsey, Ira Glass, Pam Coats, Tony Cervone, Gina Rodriguez, Mckenna Grace, Kennedy Peil, Don Messick, Kiersey Clemons, Maya Erskine, Iain Armitage, Ariana Greenblatt, Henry Kaufman, Harry Perry, John McDaniel, Alex Kauffman, Vanara Taing, Sarah Lancia, Maven Morgan, Eric Cowell
IMDB: Scoob! (2020)
Sponsored Links
Ratings
User Rating:
IMDB Rating:
5.8
Reviews
IGN

-

The earnest and entertaining Scoob! is a perfectly fine distraction for kids and parents stuck at home, with enough cute and amusing elements throughout to keep viewers engaged.

The Hollywood Reporter

-

The dynamics among the Mystery Inc. team members remain fairly intact however, with the female roles in particular registering more clearly and confidently than in past iterations. In part that's due to more dimensional scripting, as well as on-point performances from the voice cast, with Rodriguez rocking Velma's unapologetic geek streak and Seyfried embodying a smoothly cool Daphne.

IndieWire

-

Part origin story of the Mystery, Inc. team (Scooby-Doo and the rest of them, for newbies), part Hanna-Barbera homage, the animated feature is a charming enough diversion that adds to the appeal of the original show.

USA Today

-

Scooby has quite a history to which "Scoob!" pays homage, though it seems to have missed the most basic lessons.

Los Angeles Times

-

Scoob! was never going to be a great musical, but did it have to turn out to be just another superhero movie?
Scoob! (2020)
In Scooby-Doo's greatest adventure yet, see the never-before told story of how lifelong friends Scooby and Shaggy first met and how they joined forces with young detectives Fred, Velma, and Daphne to form the famous Mystery Inc. Now, with hundreds of cases solved, Scooby and the gang face their biggest, toughest mystery ever: an evil plot to unleash the ghost dog Cerberus upon the world. As they race to stop this global "dogpocalypse," the gang discovers that Scooby has a secret legacy and an epic destiny greater than anyone ever imagined.